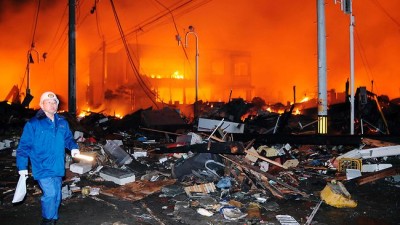 MANILA, March 16, 2011 (AFP) – The Philippines said Wednesday an air force plane would help some Filipinos escape the nuclear and quake crisis in Japan, but that there was no mass evacuation plan for all 300,000 Filipinos there.
The C-130 plane would fly basic supplies such as water and instant noodles to Filipinos stranded in Japan, then take out some who wanted to flee, President Benigno Aquino's spokesman said.
"For those who would want to leave Japan but have no means, the C-130 could be used to bring them home," spokesman Edward Lacierda told reporters.
Lacierda said there was no information yet on when the C-130 plane would start its mission.
A 9.0-magnitude quake and ensuing tsunami on Friday caused catastrophic damage to Japan's northeast coast, with police reporting that more than 11,000 people are dead or missing.
It also badly damaged a nuclear power plant 250 kilometers (155 miles) northeast of Tokyo, leading to a series of explosions and fires that have unleashed potentially dangerous levels of radiation.
The threat of radiation poisoning triggered moves by some foreign governments, including China and some in Europe, to start evacuating their citizens.
The Philippines said it had no immediate plans to begin mass evacuations, saying it would follow the advice of Japanese authorities who have insisted harmful doses of radiation have only affected areas close to the plant.
"If, as determined by Japanese officials, relocation and repatriation become necessary, the Philippine government will (then) defray the cost to undertake the required measures," a foreign ministry statement said.
Foreign Minister Albert del Rosario said Filipinos who were concerned about possible radiation exposure and wanted to flee would need to pay for their own flights out of the country.
"There's no mandatory repatriation," del Rosario told reporters.
Filipinos who have been directly affected by the quake and tsunami would also have to pay to get back to the Philippines, he said.
"Well, that's unfortunate. We sympathize with them," he said, when asked about their plight.
"The (ministry) does not have its own funds."
There are about 306,000 Filipinos living in Japan, according to the foreign ministry.
About nine million Filipinos work around the world, earning more money abroad than they do in their impoverished homeland.