MANILA, December 17, 2010 (AFP) – Philippine carriers said Friday they were bracing for tougher competition after Southeast Asia's budget carrier king Tony Fernandes announced plans to set up a joint venture airline in the country.
AirAsia Philippines, scheduled to fly in August next year, is expected to go head-to-head with the country's top budget carrier, Cebu Pacific, and Airphil Express, the low-cost unit of flag carrier Philippine Airlines (PAL).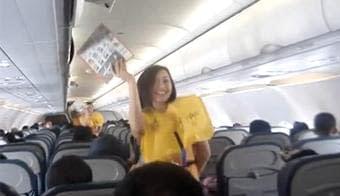 Cebu Pacific vice president for marketing Candice Iyog said the airline is ready to compete in its bread-and-butter low-cost market.
"We are ready for more competition in our own country and in theirs," Iyog said in a statement, apparently referring to Malaysia-based AirAsia, which formally announced the Philippine investment on Thursday.
"We are lean-and-mean efficient, with a very young fleet of Airbus aircraft and a highly motivated team. This year, our financial performance ranks among the best in the world," Iyog said.
"We will remain consistent in offering the lowest year-round fares in all 33 domestic and 16 international destinations we operate in," she added.
AirAsia Group chief executive Fernandes said Thursday its Philippine operation is likely to serve some of the same markets the group now flies to, ensuring low start-up costs.
The Philippine joint venture is set to decide in two weeks' time whether to use either Clark or Subic, two former US military bases north of Manila, as its hub.
The Manila Standard newspaper on Friday quoted PAL president Jaime Bautista as saying the Philippines did not need another airline because AirAsia's entry would lead to excess capacity.
"If there will be over-capacity, there will be a price war which will result (in) possible losses (to) the airlines," the Standard quoted Bautista as saying in an interview.
"But as an airline, we should welcome competition because we cannot prevent it."
Bautista could not be reached for comment Friday. PAL spokesmen said they have read his reported comments in the Standard, but declined to comment on them in turn.
PAL is scrambling with labor troubles as it tries to cut costs by outsourcing its in-flight catering, cargo handling and call center reservation services.
The government has banned two planned strikes by PAL cabin and ground crews over the past two months, forcing the unions into arbitration and ensuring its flights are not disrupted during the peak Christmas season.
Apart from Cebu Pacific and PAL, budget Filipino carrier South East Airlines (SEAIR) launched overseas flights on Thursday with a service to Singapore from Clark.
Flights to Hong Kong, Macau and Bangkok are also planned to take off some time next year when SEAIR gets its second leased Airbus jet, the company said.