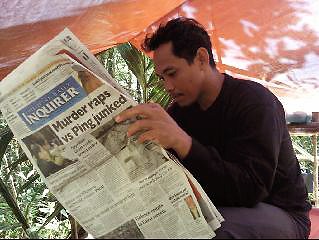 ZAMBOANGA, February 14, 2011 (AFP) – Philippine communist rebels said Monday they were holding a policeman as a "prisoner of war" even as they declared a ceasefire ahead of talks aimed at ending the decades-old rebellion.
The 4,700-strong New People's Army released photos and an audio clip apparently of Jorge Sabatin, who they said was being held hostage after a raid on a southern Philippines police outpost at the beginning of the month.
"Please help me in my difficult situation now and work for my early release," said Sabatin, according to the clip.
"Please stop the (police and military offensive) operation so they could speed up my release."
National police spokesman Chief Superintendent Agrimero Cruz confirmed Sabatin went missing after the February 1 raid.
"There are negotiations now for his release and I cannot comment any further," Cruz told AFP.
But national police said in a statement that army troops sent to rescue Sabatin mistook a police commando unit for NPA fighters on Friday, triggering a clash that led to the death of a soldier and the wounding of three others.
A spokesman for the NPA in the south, Roel Agustin, said Sabatin would be freed if their investigation showed he did not commit offences against the revolutionary movement and the public.
The NPA is known to hold its own trials, after which its "prisoners of war" are generally released.
Meanwhile, the rebels declared a truce on Monday to coincide with the seven days of peace talks with the government that will begin in Norway on Tuesday.
But just a day before their announcement, a landmine planted by NPA rebels near a mining area in a remote rural area of the southern Philippines killed one civilian and wounded six people, including two soldiers, the army said.
The victims had just attended an army-sponsored peace seminar and were being transported back to their village when the truck rolled over the explosive Sunday, it said.
The talks in Norway will be the first between the two sides in six years.
The administration of President Benigno Aquino, which came to power eight months ago, says it is aiming to end the 42-year-old rebellion by 2014.
The government said it also planned to observe a truce during the talks.
Thousands of people have been killed throughout the rebellion, which persists today mostly in poor rural areas.
Security analyst Boogie Mendoza of the Philippine Institute for Peace and Terrorism Research said Sabatin's capture was a bid to raise publicity and would likely not affect the peace talks.
"The NPA's kidnapping of officers is strategically intended mostly to maximise propaganda," Mendoza said.