MANILA, January 28, 2011 (AFP) – Tourist arrivals in the Philippines reached an all-time high of 3.52 million last year as increasingly affluent South Koreans and Chinese flocked to its tropical attractions, the government said Friday.
Visitor numbers in 2010 beat the previous record despite a bus hijacking that left eight Hong Kong tourists dead in August and a series of travel alerts by Western nations in November warning of an imminent terror attack.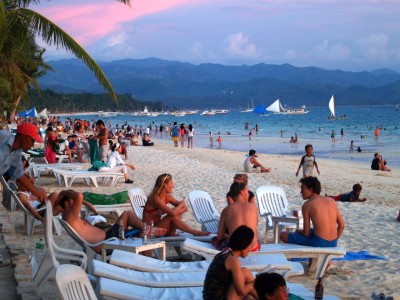 The number of tourists arriving in the Philippines rose 16.68 percent over the previous year, with East Asians, led by South Koreans, accounting for nearly half the total, the tourism ministry said in a statement.
"The improved economic condition in these markets boosted their outbound traffic," the statement said.
The final numbers topped the annual target of 3.3 million set by President Benigno Aquino's government, which is seeking to boost tourist arrivals to six million by the time he leaves office in mid-2016.
Traffic from fellow Association of Southeast Asian Nations members should surge this year after passenger air services were liberalised within the 10-nation economic bloc in November last year, the ministry said.
The previous record for arrivals was set in 2008 with 3.14 million visitors.
The Philippines is targeting 3.7 million tourist arrivals this year, but this is still just a fraction of the tourist numbers enjoyed by Southeast Asian neighbors such as Thailand.