By Jason Gutierrez
MANILA, February 28, 2011 (AFP) – Thousands of people who were abused under late Philippine dictator Ferdinand Marcos's regime began receiving compensation on Monday in what they said was a symbolic victory in a long battle for justice.
A first batch of 12 rights victims were handed checks worth 1,000 dollars each in an emotionally charged ceremony in Manila, almost exactly 25 years after a peaceful uprising toppled Marcos's two-decade rule.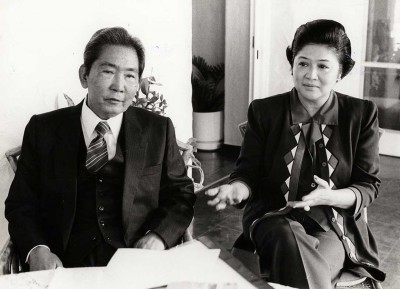 About 7,500 other victims will receive their cheques worth the same amount over the next five weeks, lawyers for the group said.
"The amount is small compared to our suffering, but this is a victory for the battle of human rights in the Philippines and it makes the Marcoses accountable for their evil deeds," retired airforce colonel Nilo Olegario said.
Olegario's activist son and namesake was arrested by Marcos's agents in December 1985, two months before Marcos was sent into US exile and replaced by democracy heroine Corazon Aquino.
Marcos, who was elected in 1965 but declared martial law in 1972, and his family are accused of plundering state coffers of up to 10 billion dollars.
His regime is also accused of widespread human right abuses, including abducting, torturing, jailing and killing political opponents.
The Federal District Court of Hawaii, where Marcos died in exile, awarded the rights victims nearly two billion dollars in compensation in 1995 after they filed a class action suit against the dictator's estate.
Chasing the funds has since been difficult, but the same court last month finally approved the distribution of $7.5 million as part of a settlement to the 7,500 victims or their relatives in the lawsuit.
The money comes from assets held in the US by a crony of Marcos, in whose name the dictator bought land in Texas and Colorado.
An accountant by training, the younger Olegario had joined the democracy movement campaign while his father and other siblings migrated to the United States to seek a new life.
"In our last conversation over the telephone, my son said 'Dad, they are arresting us," Olegario, 81, recalled, fighting back tears as he showed a picture of his then 28-year-old son casually smiling into the camera.
"He was the favourite among my five children. We never heard from him again. We have not recovered his remains,"
Cinema director Joel Lamangan, who as a young activist was jailed in isolation for two years, said the compensation was a 'closure of sorts' but still fell short of a desired apology from the Marcos family.
"I was only 17, fresh out of high school. I was jailed and subjected to all kinds of torture you can imagine. There were many times I thought I was going to die," he said, showing off a deep scar on his head left by a rifle butt.
"This is for those still missing, who were murdered and those whose youth were taken away from them."
The Marcos family has consistently denied any wrongdoing during the patriarch's rule. His son and namesake is currently a senator eyeing a run at the presidency in the next national elections in 2016.