MANILA, Oct. 31 – Rubilen "Bingkay" Amit of the Philippines defeated Line Kjoersvik of Norway, 8-2, on Thursday to advance to the semifinal round of the 2010 Yalin Women's World 10-Ball Championship at Robinson's Galleria.
The defending champion raced to a 6-1 lead by dominating the Norwegian who watched helplessly as Amit cleaned up one rack after the other.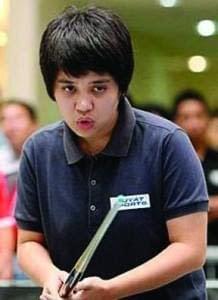 In the eighth frame, Kjoersvik managed to trim the gap at 2-6, but it was her last victory as Amit conquered the last two racks.
"I was able to surprise her early," said Amit, who earlier scored a come-from-behind 8-7 victory against Han Yu of China in the round-of-16.
Amit rallied in the endgame winning three straight racks to level the count at 6-all in the race-to-8, winner's break format.
A miscue of Amit in the red 3-ball allowed Yu to reach the hill (7-6). Yu, however failed to sink the yellow 9-ball and allowed Amit to return the table at 7-all count.
Amit, the Philippines' top woman player run-out in the final racks to escaped with a thrilling 8-7 victory.
In the Last 24, Amit raced to a 4-1 commanding lead and never looked back to beat Joanne Ashton of Canada, 8-2, to progress in the US$ 20,000 tournament top prize. (PNA) â–