MANILA, February 24, 2011 (AFP) – A Philippine mission has arrived in New Zealand to check reports that Filipinos were buried under a building that collapsed during this week's killer quake, the government said Thursday.
"There are reports coming from relatives here which indicates that there may be Filipinos in the rubble of the CTV (Canterbury Television) building," foreign affairs spokesman Ed Malaya, referring to one of the worst-hit sites in central Christchurch.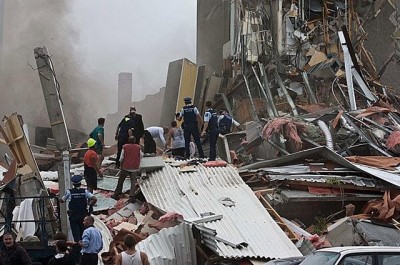 The mission is looking into one report that a Filipina nurse sent a text message on Tuesday – the day of the quake – asking her mother for help while trapped under the fallen building, he said.
The mother has told the local press that her daughter said in the text that she and five other Filipinos were trapped under the fallen CTV building.
The nurse's family tried to call the mobile phone back but could not get through, the Philippine Daily Inquirer newspaper reported.
The Filipinos were taking English language classes as a requirement to work in New Zealand when the CTV building collapsed during the 6.3-magnitude tremor, according to the newspaper.
New Zealand police said on Wednesday they did not believe the collapsed CTV building contained any survivors.
Malaya said the government had not yet confirmed how many Filipinos were missing.