By Priam Nepomuceno and Raymond Carl Dela Cruz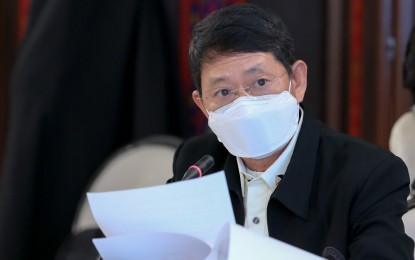 MANILA – The country has the right to patrol all parts of the West Philippine Sea (WPS), including Bajo De Masinloc (also known as Scarborough Shoal), as this area is well within the nation's exclusive economic zone (EEZ), National Security Adviser (NSA) Eduardo Año said on Tuesday.
This was in reaction to China's claims that it had blocked and prevented a Filipino warship, the BRP Conrado Yap (PS-39), from trespassing into the waters of Huangyan Island (the Chinese name for Scarborough Shoal) on Oct. 30.
"Under international law, the Philippines has every right to patrol the length and breadth of the WPS which necessarily includes Bajo De Masinloc which is well within the country's EEZ," Año said in a statement.
He added that the BRP Conrado Yap conducted routine patrol operations in the general vicinity of Bajo De Masinloc without any untoward incident.
"It did not illegally enter any space under Chinese sovereignty because Bajo De Masinloc is part of the Philippine archipelago and EEZ. Chinese vessels, as usual, conducted shadowing on the movement of PS-39," he added.
Año emphasized that China was again overhyping this incident and creating unnecessary tensions between the two countries.
"Nonetheless, the AFP (Armed Forces of the Philippines) and PCG (Philippine Coast Guard) will not be deterred by the aggressive and illegal activities of PLA (People's Liberation Army) Navy/China Coast Guard/Militia in the WPS," he noted.
Año urged China to act responsibly, respect the United Nations Convention on the Law of the Sea, adhere to the 2016 Arbitral Ruling, promote the rules-based international order, and stop its aggressive and illegal actions in Philippine waters.
"Following the strong guidance of President Ferdinand Marcos Jr., we will protect our territory and sovereign rights at all cost," he added.
Echoing Año's statement that China is creating unnecessary tensions, PCG Spokesperson for the WPS, Commodore Jay Tarriela on Tuesday clarified that speaking up against China's aggression is not inciting war following ramming incidents by Chinese vessels in October.
Tarriela said calling out China's "bad behavior at sea" highlights the party responsible for raising tensions.
"By keeping our political leaders and countrymen aware of China's violations of international law, we are safeguarding our country from political manipulation and disinformation," Tarriela said.
On Oct. 22, while conducting a legitimate rotation and resupply (RORE) mission within the exclusive economic zone of the Philippines, Chinese Coast Guard (CCG) and maritime militia vessels harassed and collided with Unaiza May 2 and PCG vessel BRP Cabra.
In August, during the AFP's rotation and reprovision mission to the BRP Sierra Madre at the Ayungin Shoal, the CCG, People's Liberation Army Navy and Chinese maritime militia vessels used aggressive maneuvers, including the use of a water cannon against Philippine supply boats and coast guard vessels.
In response to claims that PCG's transparency efforts are solely influenced by the United States, Tarriela said these efforts are instead driven by the need to protect the Philippines' maritime rights and national interest.
"Our dedication to transparency is independent of any external influence, and we prioritize the dissemination of factual information to the public," he said.
The PCG and other government agencies, he said, are using their own resources to document and monitor China's actions in the WPS.
Tarriela rebuked accusations that criticizing China's actions are anti-Filipino and pro-US.
"Experts and government officials who are critical of China's actions in the WPS are driven by their dedication to the Philippines. Their arguments are rooted in international law, such as the UN Convention on the Law of the Sea, and the Philippine Constitution," he said. (PNA)