MANILA, November 1, 2010 (AFP) – Philippine investigators on Monday arrested one of the country's most elusive fugitives who was wanted over the kidnapping of a Japanese executive 24 years ago.
Rolando Fajardo was detained shortly after arriving at Manila airport aboard a Singapore Airlines flight from the city-state, said Magtanggol Gatdula, head of the National Bureau of Investigation.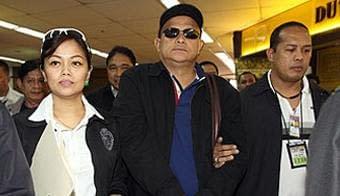 "We have nine warrants of arrest for kidnap for ransom and one warrant of arrest for carnapping against him," Gatdula told reporters.
He said Fajardo had a one-million-peso (about 23,000 dollars) bounty on his head and allegedly was the leader of a notorious kidnap gang that targeted Japanese businessman Noboyuki Wakaoji in 1986.
Then the top executive of Japan's Mitsui and Co's Manila office, Wakaoji was seized by gunmen shortly after playing golf outside the capital.
He was released after over four months in captivity allegedly after payment of a huge ransom.
Two gang members have been convicted and are serving life terms for the crime, Gatdula said.
Gangs targeting foreign and local businessmen are a major problem in Manila.
Al-Qaeda-linked Muslim militants operating in the restive southern Philippines have also kidnapped a succession of foreigners in recent years.