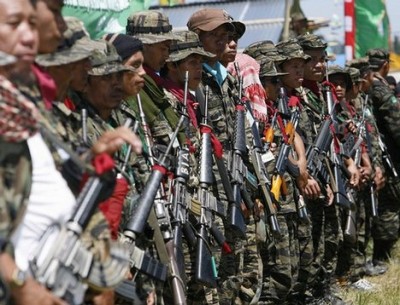 MANILA, February 7, 2011 (AFP) – The Philippines said Monday talks aimed at ending a decades-old Muslim insurgency would go ahead as planned this week despite worries over a break-away rebel faction.
Chief peace negotiator Marvic Leonen said his panel was set to depart for the Malaysian capital of Kuala Lumpur, which will be hosting the two-day talks beginning Wednesday.
"We leave for Kuala Lumpur very soon to attend the 20th exploratory talks with the representatives of the MILF," Leonen told reporters.
He said government negotiators would use the meeting to seek clarification from the MILF over an announcement it made over the weekend that one of its key commanders, Ameril Umbrakato, had split from the 12,000-strong group.
"If true, the existence of a separate armed group that splinters from the MILF will endanger our ceasefire mechanism, and make our civilian populations insecure and vulnerable," Leonen warned.
"Also, the separate existence of another armed group… may significantly put into question the ability of the current leadership of the MILF to deliver on any commitment that is negotiated with the government."
Leonen said the government had known of the brewing MILF split since late last year and had questioned rebel negotiators about Umbrakato when both sides met for preliminary talks last month.
The MILF had agreed to give a full report about the renegade rebel leader during this week's meeting, he said.
Leonen said it was premature to say whether the emergence of Umbrakato's faction could derail the talks, but acknowledged it was a "serious concern" that the MILF needed to explain.
The MILF has been fighting for an independent Muslim homeland on the southern island of Mindanao since the 1970s. The conflict has claimed 150,000 lives, according to the government.
Umbrakato is one of two MILF senior commanders who launched deadly attacks across mostly Christian communities on Mindanao in 2008.
The attacks were in retaliation for a Supreme Court decision outlawing a proposed land deal that would have given the rebels control over what they claim as ancestral lands on Mindanao.
The attacks left nearly 400 dead and hundreds of thousands displaced.
Both sides agreed to a new ceasefire in 2009, allowing most of the evacuees to return home.
The talks this week are the first since President Benigno Aquino assumed power last year, when he promised to bring an end to the insurgency during his six-year term.