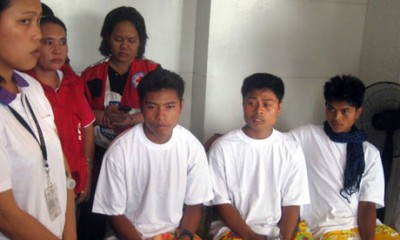 By Cecil Morella
MANILA, April 6, 2011 (AFP) – Philippine tribal gunmen have freed 13 hostages they held in a remote jungle area for four days to demand the release of a jailed relative, the government said Wednesday.
Negotiators convinced the near-illiterate gunmen from the Manobo tribe late Tuesday to let the group of 11 teachers, a student and a driver go on pledges of fair treatment for a relative awaiting trial for kidnap, a government statement said.
"We are happy to announce that at six o'clock this morning (2200 GMT Tuesday), all of the 13 hostages had been recovered and are already safe with us. Our troops found the hostages abandoned by their captors," it added.
The statement was read out by Alvin Magdamit, the mayor of the nearby town of La Prosperidad on the largely lawless southern island of Mindanao, at a news conference broadcast live on national television.
President Benigno Aquino welcomed the peaceful end of the crisis, his spokesman Ricky Carandang told reporters.
"Throughout the ordeal, the safety of the victims was President Aquino's paramount concern and he is happy to know that they are safe and free," Carandang added.
Five Manobo gunmen seized 16 teachers and children on Mindanao and held them at their jungle hideout for just over four days in a bid to get the government to free Ondo Perez, a jailed relative.
Perez is awaiting trial for murder and for kidnapping a group of 79 people, including teachers and schoolchildren, in La Prosperidad in 2009.
Perez's crimes stem from a longstanding feud with another Manobo clan.
The gunmen, whom police said did not understand Philippine legal processes, earlier freed three of the hostages on Sunday and Monday and later received assurances from the government that Perez would be tried fairly.
No ransom was sought and their demand for an outright release was rejected, while the gunmen were warned the government would use force if the hostages were not freed soon, Interior Minister Jesse Robredo said.
"They will be made to account for what they did," Robredo said in a radio broadcast.
"President Aquino had standing orders to be patient in negotiations, but he was very firm in saying that certain things cannot be negotiated," Robredo added.
Resource-rich but impoverished Mindanao makes up roughly the southern third of the Philippines. Communist and Muslim insurgencies have claimed thousands of lives on the island over recent decades.
Senior members of a Mindanao-based Muslim clan and nearly 200 members of their government-armed militia force are on trial for the November 2009 abductions and murders of 57 people including political rivals and journalists.
Robredo said the kidnappers were former members of local militia forces that were given guns to help defend remote communities in Mindanao and elsewhere from guerrilla attacks.
"After they were separated from the (government-backed militia force), their guns were not recovered and that is why they are armed," he said.
He said he had ordered the police to take steps to disarm former militiamen so they could not use government-issue weapons to commit crimes.
Education Minister Armin Luistro called for more protection for teachers and schools.
"The safety of our schools should not be left to (the education ministry) alone but should be an effort of the whole community," he said in a statement.