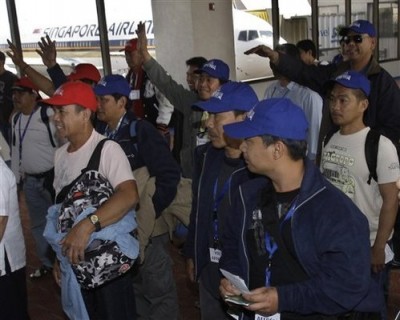 MANILA, February 28, 2011 (AFP) – The Philippines has finally begun mass evacuations of its nationals from Libya, it said Monday, after critics accused it of responding slowly to the violence there.
Bus convoys organized by Manila's embassy in Tripoli took 550 workers into neighboring Tunisia overnight Sunday, foreign department spokesman Ed Malaya told AFP.
A Greek ferry chartered by the Philippine government is also scheduled to dock at Benghazi, Libya's second biggest city, on Tuesday to start evacuating Filipinos to Malta, according to Malaya.
He said the ferry would continue shuttling back and forth until all Filipinos in Benghazi had been evacuated.
The foreign ministry said 1,877 of the 26,000 Filipinos in Libya had so far escaped, although most of those who initially fled did so with the aid of their employers and not the government.
The United Nations High Commission for Refugees estimates nearly 100,000 foreign workers have fled Libya over the past week as leader Moamer Kadhafi has sought to crush an uprising.
However few of those have been Filipinos, after the government was unable to quickly charter planes or organize buses.
In contrast, China announced Monday that 29,000 of its workers had already been brought out of Libya.
A Philippine labor rights group, Migrante International, said there were actually 30,000 Filipinos in Libya when the crisis began, insisting that the government was using old data.
Migrante president Garry Martinez told AFP Monday the government still needed to do more to help those trapped at oil and gas work sites in Libya's deserts.