MANILA, February 22, 2011 (AFP) – The Philippine government said Tuesday it would help 30,000 of its citizens flee violence-wracked Libya, and was preparing evacuation plans for Filipinos living in other Arab nations enduring uprisings.
Filipinos based in the Libyan capital of Tripoli who want to go home should contact the Philippine mission there for help, Foreign Undersecretary Esteban Conejos told a news conference in Manila.
"In view of the recent developments in Libya, our embassy in Tripoli has raised the alert level to level three, which means voluntary repatriation," Conejos said.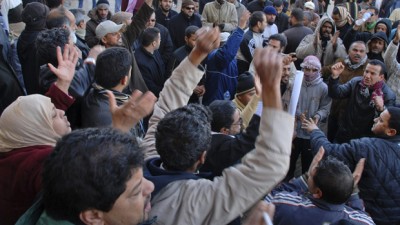 Conejos said there were about 30,000 Filipinos in Libya, made up mostly of professionals, such as doctors, nurses, engineers, and skilled workers in the country's oil and gas industries.
Conejos said that while the Philippine government was not intending to charter planes to fly the Filipinos home, the foreign ministry had provided an initial $100,000 to pay for their fares on commercial flights.
He said the government had asked the International Organisation for Migration to help it arrange seats for Filipinos wishing to leave Libya.
Conejos said the Philippine government was also preparing evacuation plans for the roughly 32,000 Filipinos in protest-wracked Bahrain and Yemen.
However he said the voluntary repatriation plans at the moment only applied to Libya.
Philippine President Benigno Aquino's office announced earlier Tuesday the government had suspended processing employment applications to all three countries.
"We're making sure that if we are going to send our workers abroad, that the places where they're going will guarantee their safety," presidential spokesman Edwin Lacierda said.
Plagued by widespread poverty and scant jobs at home, about nine million Filipinos – roughly a 10th of the population – work overseas in sectors as diverse as domestic service, construction, health and engineering.
They sent home nearly $19 billion last year, equivalent to about 10 percent of the nation's gross domestic product, according to central bank data.