MANILA, February 24, 2011 (AFP) – Thousands of Filipino workers are stranded in riot-torn Libya and are desperate to be rescued, an industry support group said Thursday as it blasted the Philippine government's evacuation efforts.
Migrante International said it had lost contact with many of its members in Libya as they scrambled to find ways of crossing the border to neighboring countries without any government support.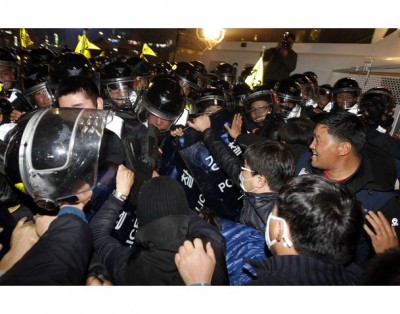 "Government really messed up, they kept telling the workers that there was voluntary evacuation, but how will they know who to look for or where and how do they get to the assigned places," Migrante chairman Gary Martinez told AFP.
"When we spoke to one group of construction workers last night, they said they will try to make it across the border to Egypt by bus today, because they haven't heard from any government official."
In contrast, other Asian countries such as China and South Korea, chartered planes and ships to get their citizens out as Libya descended into chaos.
Americans escaped by boarding a US-chartered ferry to Malta, while Britain deployed airplanes to pick up their nationals.
Martinez said reports reaching the Migrante office in Manila from their partner organizations in Libya said many of the nearly 30,000 Filipinos living there were stranded.
He said a group of 100 workers in Al Kufrah district in southeastern Libya bordering Egypt had been abandoned by their local supervisors to fend for themselves inside their camps.
"We've lost contact with them. But the last time we spoke to them yesterday, they said they'd run out of food and were not being helped by their local counterparts," he said.
"They reported they could hear heavy gunfire in surrounding areas, making it dangerous for them to move. They want to be rescued."
The Philippine government said on Tuesday it would help Filipinos living in Libya leave by helping to pay for seats on commercial flights from Tripoli.
It also released a statement on Thursday saying Philippine officials had travelled to the Egyptian and Tunisian borders with Libya to receive fleeing Filipinos.
However it has not deployed any planes or boats.