By Ruth Abbey Gita-Carlos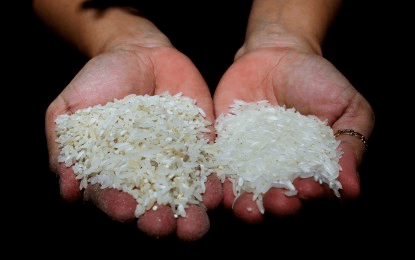 MANILA – As the country marks National Rice Awareness Month, the Philippine Rice Research Institute (PhilRice) on Thursday pushed for the mandated serving of half cup of rice in food establishments nationwide to address wastage of the Philippine's staple food.
In a Palace press briefing, PhilRice development communication division head Hazel Antonio said the rice wastage is equivalent to 10 grams per person or around 384,000 metric tons per year.
PhilRice deputy executive director Karen Barroga noted that the aggregate amount of rice wasted in a year, worth an estimated PHP 7 million, could have fed around 2.5 million Filipinos for a year.
"So, actually the campaign says, get only what you need and what we have done in the past was to encourage a half-cup serving [of rice] as default. And some of the provinces actually and cities, restaurants in the cities and provinces partnered with us to make sure that we could have a default serving of half cup of rice para hindi sayang… maiwasan natin ang wastage (so it would not go to waste and we would avoid wastage)," Barroga said.
Antonio meanwhile said there are already 46 existing local ordinances in different parts of the country, requiring restaurants to serve half-cup rice orders.
She said some of the local government units that issued a similar ordinance include those in Quezon City, the City of Manila, Puerto Princesa City, Davao City, Cebu City, Baguio City, and Iloilo City, among others.
"Mas maganda kung national 'yung law para at least kahit saan ka man pumunta, alam mo na dapat magsi-serve sila ng half. And ito naman po ay in consultation with the businesses din noong trinay namin sa mga provinces and cities, and okay naman sa kanila as long as wala naman daw cost (It would be better if there is a national law so at least wherever you go, you know that they must serve half. And this was also in consultation with the businesses when we tried in the provinces and cities, and it was okay with them as long as there is no additional cost)," Antonio said.
Support local rice
The country celebrates National Rice Awareness Month every November pursuant to Proclamation 524 issued on January 5, 2004.
This year's celebration carries the theme, "Be RICEponsible" to heighten public awareness on efforts to attain rice self-sufficiency and address malnutrition and poverty.
Barroga said the "Be Riceponsible" campaign also encourages the public to buy local rice such as home-grown brown rice and support the consumption of grains that are alternative to milled rice, including adlai.
"Because we practice integrated pest management, or judicious spraying, our rice is actually safer," she said.
She pointed out that consolidating the produce of Filipino rice farmers will enable them to meet the country's rice demand, and institutional buyers will directly buy from them.
"So, that will reduce the cost of rice for the consumers. So that's the expectation," Barroga said. (PNA)