By Ma. Cristina Arayata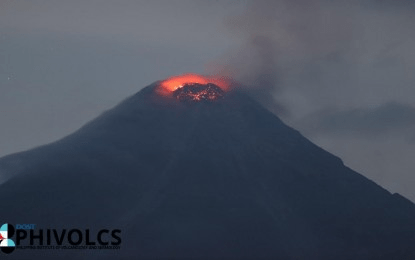 MANILA – The head of the Philippine Institute of Volcanology and Seismology (Phivolcs) on Monday said Mayon Volcano is experiencing increased activity, advising those living within the 7 and 8-kilometer radius to prepare in case the volcano's pyroclastic density current (PDC) activity worsens.
Phivolcs said that since 5 p.m. of July 9, a total of 33 PDCs, or fast-moving mixtures of volcanic gases, ash, and rock fragments, have been generated by dome collapse from Mayon Volcano's summit crater and the collapsing front and margins of the advancing lava flows on the upper to middle slopes.
"In this case, the 33 PDCs were generated when the lava dome on the volcano's summit collapsed, and also from the lava flows as these lava flows moved downward," Phivolcs Director Teresito Bacolcol told the Philippine News Agency in an interview.
The PDCs traveled for about one to four minutes down the Mi-isi and Bonga Gullies within 3.3 kilometers of the crater, according to Phivolcs.
Phivolcs added satellite monitors detected a pronounced increase in sulfur dioxide (S02) emission on July 9, whereas SO2 emission measured by campaign survey averaged 943 tonnes on the same day.
"These measurements are still relatively low compared to the amount of S02 released by Mayon during previous eruptions, which ranged from 3,000 to 7,000 tonnes per day," Bacolcol said, adding that the figure is still just a little above the background level.
Phivolcs also noted that the measured volcanic gas flux has only been slightly above background for the past three days and remain much lower than the typical ranges of eruption gas flux from Mayon Volcano.
A total of 109 weak low-frequency volcanic earthquakes have been recorded since 5 a.m. Monday, but seismic energy release has been sustained at generally the same level since June 15, Phivolcs said.
Bacolcol earlier said that even if the earthquakes would increase in number but are weak, that would still mean the volcano's alert level would be maintained.
The volcano is still on Alert Level 3 due to an increased tendency towards hazardous eruption.
The Phivolcs chief reiterated that the 6 km.-radius permanent danger zone should remain evacuated.
Aviation authorities, meanwhile, are urged to advise pilots to avoid flying close to the volcano's summit as ash from eruptions can be hazardous to aircraft. (PNA)