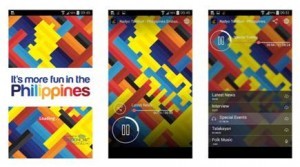 Los Angeles – The Philippine Consulate General in Los Angeles informs the public that as part of the commemoration of first anniversary of Typhoon Haiyan in November 2013, the Embassy of the Philippines in Washington D.C. has launched the "Radyo Tambuli" mobile application.  Radio Tambuli is a virtual radio station seeking to deliver news about the Philippines to the Filipino-American Community in the United States.  This mobile app is now available for download from both the Google Playstore and the Apple App Store.
The Philippine Embassy has partnered with All Nippon Airways (ANA) for a year-long promotional campaign that involves the holding of two (2) raffle draws in March and September 2015.
Anyone who downloads the app will have the opportunity to register in the raffles with the winner in each of the two draws receiving a round-trip ticket to Manila from any point in the United States that is being served by ANA.
The Consulate General of the Philippines in Los Angeles supports RadioTambuli's goal to link the Filipino-American Community and empower them with positive knowledge about the Philippines.