By Ruth Abbey Gita-Carlos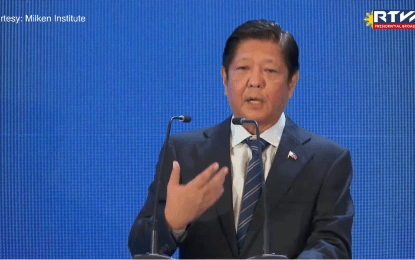 MANILA – The Philippines' journey towards a digital future is "in full swing," President Ferdinand R. Marcos Jr. said on Wednesday.
"The Philippines' tech ecosystem is thriving, marked by a dynamic start-up culture and advancements in e-commerce, in fintech, in digital services, which have flourished during the pandemic," Marcos said in a keynote speech delivered at the 10th Asia Summit hosted by the Milken Institute in Singapore.
Marcos said the growth of the country's digital economy bodes well for international companies that wish to take advantage of it.
Citing the 2023 Global Digital Report by Meltwater and We Are Social, Marcos said Filipinos are "one of the highest users of the internet and of social media."
Marcos noted that there are 85.16 million internet users in the Philippines, representing a high internet penetration rate of 73.1 percent of the total population.
"With the growing number of customers using the internet and social media platforms to discover and buy products and services, e-commerce has become one of the fastest growing trends in the Philippines," he said.
Marcos also touted the "educated and English-speaking" Filipino workforce that has propelled the country onto the global stage, especially in the area of business processing and outsourcing (BPO).
He stressed that the Philippines is the "number one" country of choice for the delivery of customer support and the healthcare services and "one of the top destinations" for outsourcing overall, being second to India.
"Several data centers are already operating in the Philippines, including Google, Microsoft, Amazon, and Meta, amongst others. Yours could be the next one," Marcos said.
'Manufacturing hub'
Meantime, Marcos said his administration is also working to develop the country's capacities as a "manufacturing hub."
The government, Marcos said, continues to invest in vocational and technical enhancement and education to ensure that Filipinos remain "globally competitive."
"Our skilled and English-speaking workforce is also one of the reasons why many manufacturing companies have chosen to locate in the Philippines," he said.
Marcos is the first sitting Philippine President to address the Milken Institute's Asia Summit. (PNA)