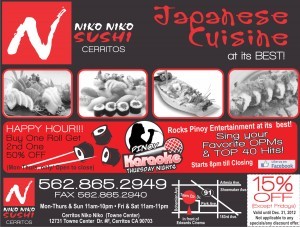 You browse thru the numbers from a booklet. You pick the song that's dear to you and because it brings memories of your long forgotten happy or sometimes lonely days. You enter the numbers and then you press enter on the wireless microphone that will play the song of your choice. You wait for your cue and then you belt out your voice. You've probably done this a hundred times. And as begin to sing, you always notice that no one's listening except you. What a bummer, isn't it?
But now, you don't have to worry about asking your children, spouse or siblings, or your mother-in-law for that matter, to sit and listen to your song. This is because on Thursday nights, Niko Niko Sushi Cerritos will provide you not just a wireless mic that always feels good in your hands, but with an audience who enjoy the same kind of hobby as yours, and a sound system that will rock your world as well as theirs.
Starting this week, Niko Niko Sushi Cerritos will open its doors to Pinoys like us who love music. It will also be the place to enjoy your sumptuous meals as well as to enjoy the company of your kababayans  who enjoy listening to others who sing the songs that they've also come to love through the years.
Dubbed as "Thursday Karaoke Night," patrons of Niko Niko Sushi Cerritos will be allowed to sing their favorite OPM hits – that's short for original Pilipino music in case you still don't know – Top 40 hits and other songs that we've accustomed to. "Anyone can sing," said the people at Niko Niko Sushi Cerritos.
What's more, find their ad in this newspaper and you can avail of a coupon that will slash your bill by 15 percent. What a deal! And if that's not enough, the Happy Hour will get you a special offer;  for every purchase of one sushi roll, you get a second roll at 50% off.  Both special offers are available daily except Fridays (Happy Hour is Monday thru Thursday only).
As always, Niko Niko Sushi Cerritos is where you get to savor Japanese cuisine at its best, including the house special Niko Niko Special or the Sushi Combination, Sashimi Combination and Rock & Roll sushi delights.
Niko Niko Sushi Cerritos is located at 12731 Towne Center Dr., #F, Cerritos, CA 90703 (in front of Edwards Cinema). For inquiries, please call 562-865-2949. Niko Niko Sushi Cerritos is open daily from 11 a.m. and closes at 11 on Fridays and Saturdays (10 p.m. on Sunday thru Thursday).