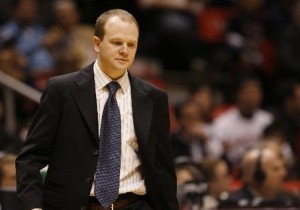 DETROIT, August 2011 (AFP) – Former New Jersey Nets coach Lawrence Frank was named coach of the NBA's Detroit Pistons on Wednesday, replacing the fired John Kuester after two seasons that did not produce a playoff appearance.
Frank could not speak directly about the players on the Pistons because of the ongoing NBA lockout of players, leaving him speaking in generalities about a season that might not begin as planned in November due to a fight over money.
Looking at a Pistons run of six years in a row in the Eastern Conference finals, Frank spoke about the team's history and past glory days.
"Six straight years in the conference finals, playoffs in eight of the last 10 seasons and those three titles," he said. "There are only five teams in the NBA with three of those, and this is one of them. That's an honor."
Pistons owner Tom Gores ditched Kuester in June, four days after buying the Pistons, who captured their third NBA title in 2004. Detroit slid to 27-55 two seasons ago and a 30-52 campaign last season was not enough to save Kuester's job.
"Right now, our first job is to get this franchise back on track," Pistons president Joe Dumars said. "We started talking to Lawrence in June, and it is now August – and I'm very confident that he's the right person to get us going in the right direction."
Typically, teams would be involved in free agency at this stage of the season, but club owners locked out players last month after the end of their collective bargaining agreement.
Owners want more than their current 50-50 split of $4.3 billion in annual revenues, citing overall losses of $300 million last season and 22 of 30 clubs as money losers. â–