LAS VEGAS – The flu season is upon us again. For the second year in a row, the Southern Nevada Health District (SNHD) has partnered with the Philippine Medical Association of Nevada (PMAN) and the Philippine Nurses Association of Nevada (PNAN) in conducting a series of Immunization Community Outreach to Asian Americans in Las Vegas. The annual project is also co-sponsored by the Shots 4Tots and the Center for Disease Control & Prevention (CDC).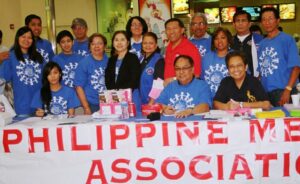 In yet another feather on the cap of PMAN and its perennial partner PNAN, the twin organizations embarked on a series of free immunizations for the underserved members of the Asian American community as part of their year-round Medical Outreach program which began two years ago. The idea, according to PMAN president Dr. Ben Calderon, is prevention, rather than treatment of the prevalent but usually taken-for-granted ailment that surges during the cold season. The much misunderstood and maligned influenza (flu, for short) occurs from November through May. Nevada residents are advised to get inoculated as early as September until mid-December to fight against infection brought on by the seasonal weather changes and the airborne virus.
In a first of a series of Immunization programs this year, the PMAN-PNAN teams started off  the campaign at the Seafood City Plaza on Saturday, November 6, 2010 from 10 a.m. till 3  p.m. The PMAN-PNAN volunteer teams were joined in by staff of Southern Nevada Health District along with representatives from the Shots4Tots and CDC, and volunteers from Filipino American Veterans of Nevada (FAV-NV) and the Las Vegas Filipino Lions Club that managed the registration and crowd control that almost overwhelmed the volunteers. The venue was provided by Well-Care Pharmacy and Seafood City.
The free Flu Shot Program conducted at Seafood City was deemed very successful not only because it inoculated 220 members of the community, but more so because it served everyone regardless of age, faith, race, color and origin. The well attended project benefited everyone, and  in some cases, whole families came to avail of the free flu shots. Most, if not all, of those who were served had no insurance, under-insured, and/or jobless and had no means to afford even the simplest flu vaccine.
In the past couple years, the PMAN has been working on disseminating information about the importance of getting vaccinated with Influenza Vaccine 2010-11 every flu season throughout the communities it serves.
The annual Immunization Project of the PMAN-PNAN, in coordination with SNHD, chambers of commerce, and local businesses, benefits not only the Asian American members of community but all Americans who see and feel the need for flu shots to combat common diseases associated with winter and the seasonal flu epidemic.
The Seafood City group was spearheaded by PMANÂ  president Ben Calderon, Dr. Terry Melocoton, PMAN Immunization coordinator, and PNAN president Cristy Sampal, with groups of registered nurses from the PNAN and SNHD volunteers namely Mila Revilla, Elvira Tomasi, Jackie Briones, Carmencita Uy, and Helen Ymson. They were assisted by Filipino American Veterans of Nevada (FAV-NV) officers Ceasar and Beverly Elpidio and Emilio Ayonon , volunteers Nestor and Christine Melocoton, Elvis Sampal, Emilio Ayonon, Christie Garcia, Ralph Ballon, Ralph and Aireen Aquino, Rod, May and Richard Malit, and representatives from SNHD.
On Sunday, November 14, some members of the regular volunteer group stationed themselves at Asian Seafood Market located inside Colonnade Square (by Eastern Avenue and Pebble Road) and served some 74 members of the community from the Henderson area.
The group was joined in by new Dr. Seema B. Sood, director of Las Vegas India Chamber of Commerce, who led the administration of flu shots. She was ably assisted by RNs Mila Revilla and Maria Lourdes Gueco of SNHD, and new PNAN volunteers Chau Ngo, Ellen Quintela, Aileen Fargas, Mary Betita, Sonia Villamor, Jane Ringor, Mel and Serge Abello, and Komal Sood, daughter of Dr. Seema Sood.
The program would not have been possible if not for the cooperation  of Naji Azzam, Asian American Group (AAG) director and owner-proprietor of the venue Asian Seafood Market (which also catered lunch for the volunteers), and the Las Vegas India Chamber of Commerce, headed by its president Rita Vaswani.
Other  upcoming immunization programs are scheduled on Sunday, November 21, 2010 at the Sikh Temple located on 6341 W. Lone Mountain Road, Las Vegas, Nevada 89130. Free Flu Shots will be given from 9:30 a.m. till 12 noon. Dr. Seema Sood and Dr. Amar Chadha will lead the regular volunteers from PMAN, PNAN, SNHD, and members of Las Vegas India Chamber of Commerce.
Also on Sunday, November 21, the  group will serve the Thai community at the Chaiya Meditation Monastery on 7925 Virtue Court, Las Vegas 89113, from 10 a.m. till 2 p.m.