By Christopher Lloyd Caliwan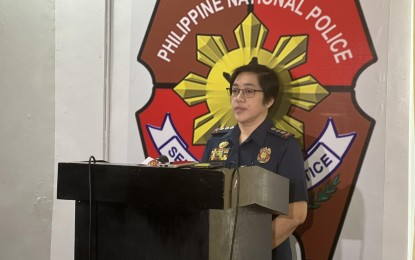 MANILA – The Philippine National Police (PNP) on Monday said 286 firearms have been confiscated in checkpoint operations since the start of the gun ban in relation to the Oct. 30 Barangay and Sangguniang Kabataan Elections (BSKE).
"As of 6 a.m. today (Monday), we have confiscated 286 firearms — 273 of which are small firearms and 13 are light weapons. As to the number of arrested personalities, we are still awaiting data because there is a discrepancy in the reports that came last night," PNP spokesperson Col. Jean Fajardo said in a press briefing in Camp Crame, Quezon City.
Fajardo said they are also validating nine suspected election-related incidents (ERI) from the regions of Central Luzon, Bicol, Eastern Visayas, Zamboanga Peninsula, Soccsksargen and Caraga.
The incidents would have to be validated within 10 days by the Joint Peace and Security Coordinating Council to determine if they can be considered ERIs.
Meanwhile, the police force has confirmed two incidents as ERIs and 11 others as non-ERIs.
Fajardo said one of the two confirmed ERIs happened in Libon, Albay where the victim, Alex Repato, a reelectionist captain of Barangay San Jose, was shot dead by still unidentified assailants in his house during the first day filing of certificate of candidacy on Aug. 28.
The PNP is also keeping a close watch on four active private armed groups (PAGs) and 38 potential PAGs.
"We have recorded four active PAGs and 43 potential PAGs but based on our latest assessment. It went down to 38 because we found out that some of these are now dormant or inactive because the majority of their members and leaders were already arrested. We are particularly monitoring these groups to make sure that they won't wreak havoc during the elections," she added.
The election period for the BSKE started on Aug. 28 and will end Nov. 29.
During this period, the Commission on Elections (Comelec) mandates the suspension of activities involving the carrying of firearms or other deadly weapons and the employment of security personnel or bodyguards by incumbent public officials, whether elected or appointed, as well as private individuals.
To facilitate the application for the issuance of a Certificate of Authority for Security Detail, eligible individuals, including incumbent public officials and private citizens, are encouraged to submit their requests online through the Comelec website.
The electronic filing system has been operational since June 5 and will remain open until Nov. 15. (PNA)