By Christopher Lloyd Caliwan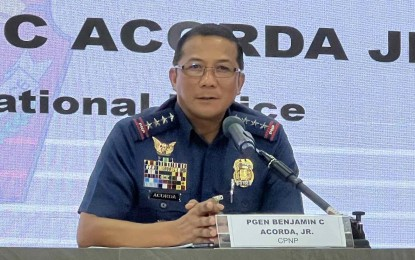 MANILA – Philippine National Police (PNP) chief Gen. Benjamin Acorda Jr. on Saturday urged the five police officers implicated in a robbery-extortion of a computer shop in Sampaloc, Manila to immediately surrender if they want to clear their names.
The policemen were identified as Staff Sgts. Ryann Tagle Paculan and Jan Erwin Santiago Isaac; Cpl. Jonmark Gonzales Dabucol; and Pat. Jeremiah Sesma Pascual, and Pat. John Lester Reyes Pagar.
All five are members of the Manila Police District's District Police Intelligence Operations Unit (MPD-DPIOU).
"I am saddened about it but we are doing our best just to show to our fellow Filipinos that we are not condoning any kind of this act and we will be running after them," Acorda said in a statement. "I urge those PNP personnel na sumuko na lang (to just surrender)."
He also ordered the MPD to work with the Camp Crame-based Intelligence Group and Criminal Investigation and Detection Group to locate the suspects.
According to the PNP, the five cops were allegedly caught in closed-circuit television (CCTV) footage as they forcibly entered a computer shop in Barangay 525 on the night of July 11, and introduced themselves as police personnel conducting an operation against illegal gambling.
The five then allegedly accused 73-year-old Herminigildo dela Cruz, the owner of the computer shop, of being involved in an illegal gambling den before they took the shop's earnings from a drawer amounting to PHP44,000.
They also did not present a search warrant and were in plain clothes, according to the PNP.
The suspects allegedly demanded from the shop owner a weekly "protection money" worth PHP 4,000 just to continue the shop's operation.
The five have since gone into hiding.
Police are also investigating an alias "Menay" who allegedly acted as an accomplice of the suspects.
Meanwhile, the MPD relieved the entire 50-member unit of the MPD-DPIOU, pending the result of further investigation into the incident. (PNA)