By Christopher Lloyd Caliwan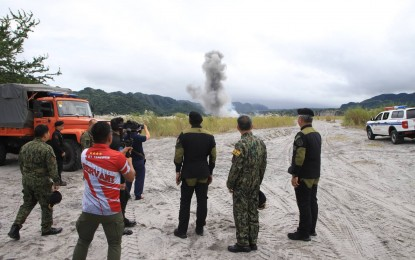 MANILA – Bomb technicians of the Philippine National Police-Explosive Ordnance Division (PNP-EOD) disposed of some 362 lbs. of explosives seized in various operations.
In a statement Wednesday, the PNP-EOD said the explosives were disposed of in a "critical disposal mission" at Col. Ernesto Ravina Airbase (CERAB), Crow Valley Gunnery Range, Capas, Tarlac on Tuesday afternoon.
A total of 1,506 pieces of assorted unexploded ordnance (UXOs), explosive remnants of war (ERWs), improvised explosive devices (IEDs) and other deadly explosive materials were meticulously disposed of through a series of controlled detonations.
These explosives are capable of inflicting severe injuries or death on at least 100 persons.
The EOD said the presence of these menacing explosive materials, predominantly vintage bombs from the last World War and other recovered explosive devices, poses an imminent threat to the surrounding community.
PNP-EOD chief Brig. Gen. Albert Magno guided the team of highly trained experts who executed the disposal operation, which was also witnessed by PNP chief Gen. Benjamin Acorda Jr. (PNA)