By Christopher Lloyd Caliwan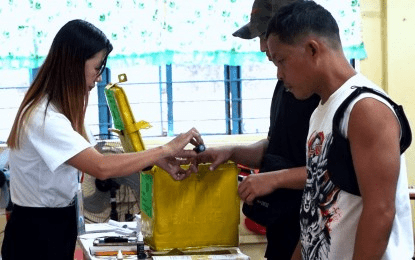 MANILA – The Philippine National Police (PNP) on Monday said it has only recorded minor incidents during the voting period for the Barangay and Sangguniang Kabataan Elections (BSKE) and there was no reported failure of elections in any part of the country.
PNP Directorate for Operations deputy director Brig. Gen. Chito Bersaluna said as of 3 p.m., minor incidents include slight delays in the opening of polling centers, particularly in the Bangsamoro Autonomous Region in Muslim Mindanao (BARMM) and Region 4B (Mimaropa) due to the delay in the delivering of election paraphernalia, a power interruption in Oriental Mindoro, missing voter's names and temporary suspension of the voting process due to commotions particularly in Puerto Princesa City in Palawan; and the withdrawal of some teachers as electoral board members in the provinces of Lanao del Sur, Maguindanao del Sur, Abra and Kalinga.
"The issues and concerns were immediately addressed by the Comelec (Commission on Elections) through the assistance of the Comelec, AFP (Armed Forces of the Philippines) and PCG (Philippine Coast Guard) hence, the 2023 BSKE in these areas proceeded accordingly as the conduct of 2023 BSKE nationwide is generally peaceful as there were no major incidents recorded so far that compromised the integrity of the elections," Bersaluna said in a press briefing in Camp Crame.
PNP chief Gen. Benjamin Acorda Jr. also echoed Bersaluna's remarks despite the rise of validated election-related incidents (ERIs) to 35 as voters went to the polls.
"There may be a possibility that we may either have the same number of validated ERIs — 40 from the 2018 BSKE or we may exceed this. We will give you updates but definitely, the good thing is that our police were able to immediately to respond to the majority of these incidents," he said.
During Monday's polls, the PNP reported 16 incidents — two mauling incidents in the Zamboanga Peninsula; two physical injury cases in Northern Mindanao; one case of malicious mischief in the Cordillera; one case of harassment in Soccsksargen; one hacking and one illegal campaigning case in Calabarzon; one case of light threat in Bicol; one case of vote buying and vote selling in Metro Manila; and six shooting incidents in the BARMM.
These shooting incidents in BARMM killed five persons and wounded 11 others, Acorda added.
However, the PNP chief said these did not affect the overall electoral process.
"In the face of these hurdles, we have not faltered. We have risen to the occasion, determined to find swift and effective resolutions. Our collective efforts have ensured that the integrity and fairness of the electoral process remain unscathed," Acorda said.
Despite these incidents, Acorda said the success of Monday's polls proved the unified strength of government agencies and the citizens' commitment to democracy.
"To the victors, we appeal to you: do not squander the trust bestowed upon you by the Filipino people. Embrace this opportunity to uplift our nation. And to our elected youth leaders, may you serve as a beacon of inspiration, reminding us all to serve our country with love and unwavering honesty," he added. (with Priam Nepomuceno/PNA)