By Christopher Lloyd Caliwan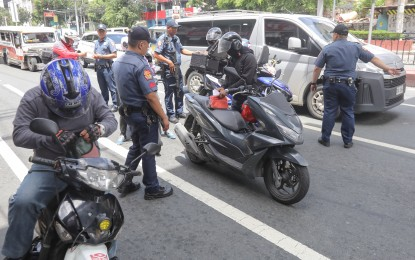 MANILA – Police officers have arrested a total of 682 violators and seized 422 firearms at checkpoints since the start of the gun ban for the Oct. 30 Barangay and Sangguniang Kabataan Elections (BSKE), the Philippine National Police (PNP) said on Monday.
In a press briefing at Camp Crame, Quezon City, PNP spokesperson Col. Jean Fajardo also said some 3,157 other types of deadly weapons and contraband items were also seized as of 11 p.m. on Sunday.
She said they have also deposited 663 firearms for safekeeping and those who have surrendered expired licenses that are around 532.
During the poll period, the Comelec mandates the suspension of activities involving the carrying of firearms or other deadly weapons and the employment of security personnel or bodyguards by incumbent public officials, whether elected or appointed, as well as private individuals.
To facilitate the application for the issuance of a Certificate of Authority for Security Detail, eligible individuals, including incumbent public officials and private citizens, are encouraged to submit their requests online through the Comelec website.
Meanwhile, Fajardo said election-related incidents (ERIs) reported to them ahead of the polls have climbed to 35.
However, she said the number of confirmed ERIs remains at four.
These incidents happened in Taal, Batangas; Libon, Albay and in the towns of Malabang and Piagapo, both in Lanao del Sur.
The number also includes 12 suspected ERIs and 19 validated non-ERIs. (PNA)