By Christopher Lloyd Caliwan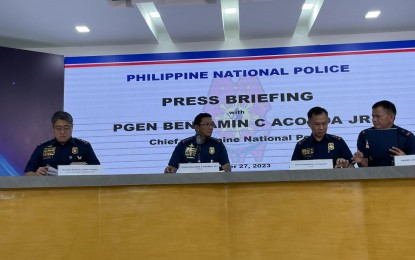 MANILA – The Philippine National Police (PNP) will be on full alert starting Saturday to ensure a peaceful Barangay and Sangguniang Kabataan Elections (BSKE) on Oct. 30.
In a press briefing at Camp Crame, Quezon City on Friday, PNP chief Gen. Benjamin Acorda Jr. said this will signal the deployment of 187,600 police personnel for election duties.
However, Acorda said regional commanders can deploy personnel under their operational control and supervision earlier than Saturday, depending on the prevailing peace and security situation in their respective areas.
"Our message to the public is clear: election day will remain under our control, and we will not tolerate any disruptions or threats to the peaceful exercise of your right to vote. We urge the public to cooperate and report any irregularities or security concerns," he said.
Acorda said they are working closely with other law enforcement agencies to ensure a coordinated response to incidents amid the polls.
This, as the number of validated election-related incidents (ERIs) climbed to 26 as of Friday, out of a total of 135 cases it has recorded nationwide, based on the latest PNP data.
Undergoing validation are 24 incidents while another 85 were classified as unrelated to the polls.
"We have been investigating all incidents but with regards to the alignment or deployment of forces, it's still the same with the regional directors. These incidents would be the basis for deployment of personnel or realignment of forces," Acorda said.
"In terms of monitoring, we are actively working with the Comelec (Commission on Elections). We have a data sharing pact. We have command centers in the national, regional, provincial and municipal levels, we have NEMAC (National Election Monitoring and Action Center), REMAC (Regional) and we have hotlines," he added.
Cotabato village still 'yellow' area
Acorda said Barangay Rosary Heights 12 in Cotabato City remains under the yellow category of the Comelec's watchlist classification.
He said they have yet to receive a recommendation to change its status, despite the latest poll-linked violence in the area where two candidates and a supporter were gunned down on Monday.
Under the Comelec watchlist classification, places under the red category are considered to be on the watchlist and need to be carefully monitored due to the presence of threats.
Green areas are those that are generally peaceful and orderly and have no cause for concern while yellow areas have a history of election-related incidents in the last polls and had been previously declared under the control of the Comelec.
Orange areas are those that have an immediate security concern due to a serious armed threat.
As of Wednesday, 361 villages have been placed under the red category; 1,252 villages under the orange category; 1,210 villages under the yellow category and 39,178 under the green category.
Meanwhile, the Comelec earlier placed the town of Libon in Albay and the whole Negros Oriental province under its control.
Comelec Resolution No. 10757 allows the poll body to place areas under its control for a history of intense rivalry among contending parties which can lead to violent acts; incidents of politically motivated violence involving candidates and supporters; violence facilitated by the employment of private armed groups; and serious armed threats from communist groups and other lawless elements.
Curbing NPA extortion, vote buying
Acorda said there have been no reports of widespread extortion on candidates by the communist New People's Army (NPA) through their 'permit to campaign' scheme.
"Since the start of the election, we have not received any reports on that except in the area of Sagay City, Negros Occidental, Bongabon (Nueva Ecija) but these are still subject for validation. I urge our candidates, let us not be a victim of this," he added.
He also urged the public to ditch vote-buying and vote-selling and relay any information or evidence of such activities to the appropriate authorities.
"I would like to assure the public that we are wholeheartedly committed to ensuring that the upcoming elections are conducted with transparency, fairness, and security," Acorda said.
Since the start of the election period last Aug. 28, Acorda said the PNP has launched checkpoint operations supervised by local Comelec officers where a total of 1,430 firearms were seized from 1,880 arrested gun ban violators as of Friday.
The PNP has also accepted 1,666 surrendered firearms and another 2,325 firearms deposited for safekeeping.
The election period for the BSKE will end on Nov. 29. (PNA)