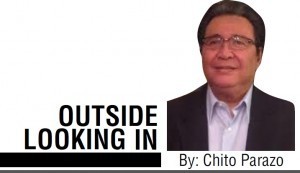 Latest poll surveys conducted by two prominent public opinion pollster firms show that neophyte Senator Grace Poe Llamanzares has overtaken Vice President Jejomar Binay as the most preferred choice of voters to be their next president.
She is also the top choice of voters if she decides to run for vice president, based on the same surveys conducted by both Social Weather Stations (SWS) and Pulse Asia early this month. The same survey also showed Interior Secretary Mar Roxas gaining some ground.
The camp of Vice President Jejomar Binay should be wary about these new political developments unfolding. This could derail Binay's presidential ambition if he can't counter what I believe is a ploy by the Aquino administration to pre-condition the minds of the people about the Vice President's inability to win the presidency.
Allegations of corruption against Binay and his family may have contributed to the slippage of Binay's ratings on the latest presidential surveys.
We all know that political surveys conducted by pollster firms in the Philippines are not reliable. But they can surely make or unmake anyone running for a public office.
It is believed that surveys are being manipulated and meant to generate public perception that a particular candidate has pulled away from other aspiring presidential bets.
Voters should know by now that these pollster firms, particularly the SWS and Pulse Asia, are not actually conducting honest-to-goodness pre-election surveys. What they are doing is to pre-condition the minds of voters toward a bandwagon effect in favor of a candidate who pay astronomical fees to their firms.
Some political organizations have been raising questions on the methodology used by these two polling firms. They have expressed disappointment with SWS and Pulse Asia on how they have conducted and presented their findings. SWS and Pulse Asia have been accused so many times for their biases toward their perceived presidential candidate.
Although pre election surveys are constitutionally valid, retired Comelec Chairman Rene Sarmiento once told the media that they are not helpful to voters because these set-trending can influence the voting public. This is true, since voters, particularly in the rural areas, will rely on the polling trend instead of focusing on the platforms, issues and qualifications of candidates, which they may or may not even understand, or even care.
The last presidential election won by President Noynoy Aquino was a good example. After the death of his mother, former President Cory Aquino, then Senator Noynoy was the instant candidate fielded by the Liberal Party because of the outpouring of sympathy showed by the public on the demise of President Cory.
At that time, former Senator Manny Villar of the Nacionalista Party has always been at the top of the list of presidential candidates most likely to win the presidency. Enter Senator Noynoy and the yellow party machinery, with the help of the SWS and Pulse Asia surveys, the double digit lead of Senator Villar vanished into thin air. Senator Noynoy eventually became the frontrunner overnight in all presidential poll surveys conducted by both the SWS and Pulse Asia.
To pre condition the minds of the voters on the winnability of the then Senator Noynoy, print and broadcast media launched a media campaign blitz to publish and report on regular occasions the double digit lead of "NoyNoy," over his closest political rival through the "manipulation" of SWS and Pulse Asia polling firms.
Despite his mediocre or sub-par performance as a Congressman and Senator, he won the presidency against a field of more deserving presidential candidates, such as bar topnotcher and former Defense Secretary Gilbert Teodoro and Real Estate Magnate Villar.
Do you who owns SWS and Pulse Asia public opinion polling bodies? How reputable are they? Why have they been partial to then Senator Noynoy and now to Senator Poe Llamanzares?
The SWS was founded in 1985 by Dr. Mahar Mangahas , Professor Felipe Miranda, known Cory loyalist and former  DPWH Secretary Jose "Ping" De Jesus and Mercy Abad. Pulse Asia, on the other hand, was launched in 1999 when Professor Miranda bolted from SWS.
Mangahas is a cousin of the late presidential candidate presidential candidate Fernando Poe Jr and he's the uncle of Senator Poe Llamanzares. Pulse Asia major stockholders, meanwhile, are close relatives of President Noynoy. They are Antonio Cojuangco and Rafael Cojuangco Lopa. Both are cousins of President Noynoy.
I expect the SWS and Pulse Asia to come out with monthly surveys until a few days before next year's election with their "rigged" or "manufactured" surveys to show either Poe Llamanzares or even Roxas as the voters' preferred choice as their president.
During my time as a reporter in Manila, not once did I believe in poll surveys. Both SWS and Pulse Asia have never reported nor divulged who funds or pays for their poll surveys. If their polling firms are reputable as they have claimed, they should be more honest in making public on who or how they are financing their surveys to promote transparency.