By Ma. Teresa Montemayor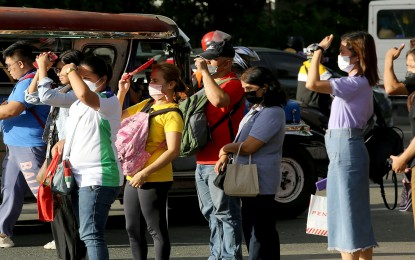 MANILA – The positivity rate or the number of people testing positive for Covid-19 in the National Capital Region (NCR) may reach 25 percent, the OCTA Research Group said Friday.
In a televised public briefing, OCTA Research Group fellow Dr. Guido David said the positivity rate in the NCR has reached 20.4 percent on May 3 from 14 percent on April 26.
"Yes, we're expecting na tataas pa iyong positivity rate, baka umabot siya ng mga up to 25 percent, at hindi lang ako ang gumawa ng projections na iyan (that the positivity rate will rise, it may reach up to 25 percent, and I'm not the only one who made that projection), even other experts foresee that," he said.
However, the healthcare utilization rate would not reach critical levels.
"In fact, currently nasa 25 percent healthcare utilization sa Metro Manila and we don't expect na aabot iyon ng mga 40 percent, for example and it will be safe at low levels naman (the healthcare utilization is at 25 percent in Metro Manila, and we don't expect that it would reach 40 percent, for example, and it will be safe at low levels)," he added.
He also noted that the provinces of Cavite, Rizal, Laguna, and Camarines Sur already have more than 20 percent positivity rate.
On Thursday, the Department of Health (DOH) said positivity rate is not the sole criterion in monitoring the country's Covid-19 situation and metrics such as transmission rate, contact rate, and longer durations of infectiousness are not sole drivers of transmission and increases in cases.
In addition to monitoring the healthcare utilization rates and hospital admissions, the DOH urged the public to focus on layers of protection against Covid-19.
David said that vaccination and wearing of face masks following self-risk assessment are important.
On the other hand, the public must have personal responsibility and arming people with information could help.
"Positivity rate, it's one indicator, it's not the only indicator pero it's one indicator na nagsasabi na tumataas iyong infections (but it's one indicator saying the infections are increasing)," he said.
To date, the country has logged 4,092,158 confirmed cases of Covid-19 with 66,444 deaths.
As of March 20, 2023, more than 78.4 million have been fully vaccinated including 7.2 million senior citizens, 10.2 million adolescents and 5.6 million children.
More than 23.8 million have received their first booster dose and almost 4.4 million have received their second booster shot. (PNA)