By Marlou Colina
It's almost time…you've been looking forward to the prom forever! You've been planning and running the family all over town to grab the perfect dress, suit, flowers, shoes and the perfect date too. This year Sassy Glam is in, the alluring look made popular by Cher and Christina in the smash hit movie Burlesque.
The half-up half-down hair styles, the classic smokey eye, finger waves, and luscious red lips. This is the year of the Pin-Up Girl, so take this opportunity to get your parents to give you the freedom to claim your inner GLAM. It doesn't matter whether you're a girl or a guy, you can't slum-it at Prom this year. Avoid being the yearbooks 'Worst Dressed' or 'Most Unlikely to Succeed' by picking a 'couples look' that's sophisticated, glamorous and – most of all – sexy.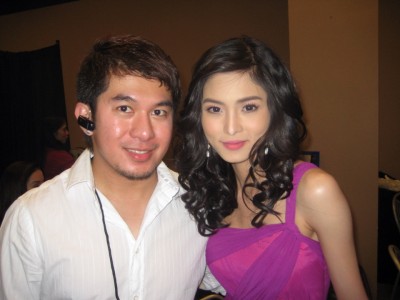 LIPS and EYES: Many so-called beauty experts say pick one and down play the other. I believe that's playing it safe ladies, its Prom, live it up. Blow-out those eyes with an ultra-smokey haze that makes your unique eye color pop. Then, glam up the lips with a ridiculous red – and make sure to add some shimmer and shine by adding glitter and lip gloss. Guys, for some of you, it may be time to get some man-scaping done – at least on the eye brows.
FACE: If your complexion is more pale, then enhance it with a cover-up that gives you that Barbie doll-look. Note: Barbie hasn't had red or peachy checks since the 80s…we're looking for a natural look. For those sexy dark-skinned ladies, play the Island Tropical Bombshell card. The same smokey eye and luscious red lips, but bring out your tone even more with a sponged face and omit the glitter or gloss – you don't need it to shine.
BODY: Let me say it again, it's Prom! This is when you get to dress up and show everyone a glimpse of the adult in you. Guys, no jeans or street wear. Ladies no flats or floral patterns – please. No matter how well you think your outfit fits, get it altered: guy's shirts should not be over-sized and 'poofy', the shirt should be fitted. Ladies your dress should be youthful, but not made for the flower girl in a wedding. Your styles and colors should complement one another (not necessarily too matchy-matchy).
HAIR: For the guys, a sure eye-catcher is the pretty-boy look. That cross between the 'metro-sexual' and the 'Prep School Jock'. Get a fresh haircut that shows your unique flavor, but isn't over done and takes away from your dates do – unless that's your intention. Ladies, give them a peek at your neck line, accentuate your eyes with soft bangs and/or waterfalls down the side of your face.
Accessorize: Gentlemen, in line with the Pretty Boy look, if you wear ear rings, Prom is a night for the bling; diamond or crystal earrings made of silver or white gold. A nice watch is a good touch, but the decade of chains and charms on your neck – especially outside of your clothes- is dead and gone. Ladies, a sure bet is always pearls, yes pearls. The reason why pearls can be a perfect accent is their ability to always give that timeless glam signature to every photo. And ladies, you must have a clutch. Ladies that want that little something extra, a wrap or BeBe fur-looking vest can do it.
Enjoy Prom everyone! And take lots of pictures…share your Prom Photos with us. Facebook.com/Marlou.Colina, you could win a free Mini-Make Over or Free Make-Up from Marlou Colina.
Marlou Colina is a celebrity stylist. He is the founder of The Marlou Colina Salon and Celebrity Make-Up Line. For more information, please visit his website at www.MarlouColina.com. or visit his shop at 3848 Atlantic Avenue, Suite One, Long Beach, California. He may also be contacted at 562.988.3101.