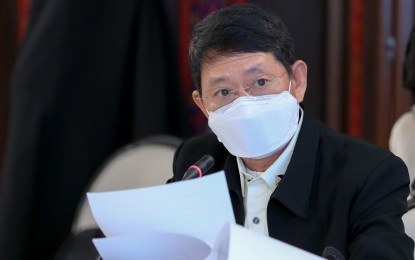 MANILA – National Security Adviser (NSA) Eduardo Año said the planned reciprocal access agreement (RAA) between the Philippines and Japan will greatly boost the military cooperation between the two nations, aside from improving regional security.
"The proposed RAA will facilitate the procedures and set guidelines when Philippine forces visit Japan for training and joint exercises, and vice versa," he added in a statement Sunday night.
Año said Japan's commitment to provide coastal surveillance radars and support through the Official Security Assistance (OSA) program is a testament to Japanese dedication in strengthening the security and deterrence capabilities of partner countries in the Asia-Pacific region.
"We are honored to be the first beneficiary of this program, which aligns with our efforts to improve our maritime domain awareness capability, maintain regional stability, and protect the rules based international order," the NSA said.
Año added that the ongoing trilateral cooperation between Japan, the Philippines and the United States is pivotal in safeguarding the freedom of the seas in the West Philippine Sea and promoting international law.
"Japan's support in the form of equipment, technology cooperation, and patrol vessels will further enhance our maritime law enforcement capabilities," he noted.
Año said the Philippine government is looking forward to the negotiations and implementation of these agreements and initiatives, which will undoubtedly strengthen the partnership and contribute to a more secure and stable Indo-Pacific region.
Meanwhile, Senate President Juan Miguel Zubiri is confident that the proposed reciprocal access agreement (RAA) between the Philippines and Japan will be ratified once it reaches the Senate.
In an interview with CNN Philippines on Monday, Zubiri said the RAA will need 16 votes to be ratified.
"It's a two thirds vote — 16 votes, and I know I have more than 16 votes already supporting this treaty," he said.
This came after Japanese Prime Minister Kishida Fumio delivered a message before a joint session of Congress on Saturday.
Zubiri said the agreement should come in time before the planned joint exercise of the coast guards of South Korean and Japan with the Philippine Coast Guard.
"So, maganda po na meron na tayong reciprocal access agreement para sa ganon, meron na po tayong (It is better that we have a reciprocal access agreement so that, we already have the) guidelines when it comes to following rules and regulations within our sovereign countries. So, I think we're looking at maybe next year — 2024, to be able to ratify this," Zubiri said, noting that the existing RAA of Japan with the United Kingdom and Australia can serve as a guide to its new RAA with the Philippines.
"We're using that as a template now for our RAA with Japan. That's why it's going to be a bit easier to discuss this. We're looking at a timeline of less than a year. Maybe by the first half of next year, they can take this to the Senate and we can already ratify that," he added.
Zubiri also clarified that the planned Philippines-Japan RAA only covers training and will not require any site like the Enhanced Defense Cooperation Agreement with the United States.
The Philippines and Japan have recently agreed to start negotiations for the proposed RAA to come up with a visiting forces deal to strengthen the two countries' defense cooperation amid China's expanding military presence that went through the country's exclusive economic zone. (PNA)