By Christopher Lloyd Caliwan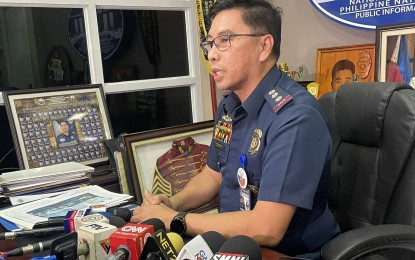 MANILA – The Philippine National Police (PNP) on Tuesday challenged one of the suspects in the killing of Negros Oriental Governor Roel Degamo to prove his claim of being tortured by the police to admit his involvement in the crime.
Jhudiel Rivero (a.k.a. Osmundo Rivero), one of 10 former soldiers implicated in the Degamo slay, claimed the police coerced him to admit his involvement in the March 4 massacre in Pamplona town.
"Kailangan magprisenta rin siya ng sarili niyang ebidensya at 'yun ay kanyang allegation. Ang allegation naman kasi is not an evidence. He has to substantiate 'yung kanyang mga allegation but one thing is clear, siya ay nahuli at na–filan ng kaso at ngayon ang kaso ay nasa husgado na (He must also present his own evidence to back up his allegation. The allegation is not evidence. He has to substantiate his allegations but one thing is clear, he was arrested and charged and now the case is in court)," PNP public information office chief Brig. Gen. Redrico Maranan told reporters.
In a counter affidavit confirmed by his counsel, Harold Montalbo, on Monday, Rivero also denied knowing Negros Oriental 3rd District Rep. Arnolfo Teves Jr., the alleged mastermind who is now considered a fugitive.
Teves was formally charged on May 17 by the National Bureau of Investigation for masterminding the Degamo slay.
Rivero claimed he was merely reporting his missing motorcycle the day after the incident but was arrested instead by the Bayawan City police.
Maranan, meanwhile, said the PNP continues to adhere to the protection of human rights in the course of its investigation of cases.
"Ang PNP ay isang organization na labis ang pagkilala sa karapatang pantao sapagkat alam namin na meron tayong batas na umiiral diyan, yung RA 9745 or yung Anti-Torture Act of 2009 at alam din ng lahat ng pulis na ito ay may kaparusahan kaya tayo ay nakasisiguro na wala pong matinong pulis na lalabag sa batas na yan sapagkat ang penalty diyan ay reclusion perpetua or 40 years kapag ikaw ay napatunayang lumabag sa RA 9745 (The PNP is an organization that recognizes human rights because we know that we have a law that exists, Republic Act 9745 or the Anti-Torture Act of 2009, and the police also know that this is punishable so we can be sure that there is no sensible police officer who will violate that law because the penalty is reclusion perpetua or 40 years)," he said.
Maranan said the fact that cases have already been filed with the courts reflects "our trust in the competency and effectiveness of our judicial system to ensure a fair and impartial process."
"We have faith that the courts will uphold the principles of justice and provide a transparent and unbiased examination of the evidence presented."
Maranan said the PNP Human Rights Affairs Office plays a vital role in championing human rights as they have taken concrete steps to promote and protect human rights by establishing dedicated human rights desks in police stations across the country.
He added the desks serve as accessible channels for individuals to voice their concerns, file complaints, and seek assistance in cases of potential human rights violations.
He also said the PNP is committed to addressing these concerns promptly and ensuring that all citizens are treated with dignity and respect.
Maranan said the strict observance of human rights is deeply ingrained in the PNP Operational Procedure, a comprehensive set of guidelines that constantly reminds all members to conduct operations with the utmost respect for human rights.
"While self-serving motives can influence testimonial evidence, our reliance on objective facts and forensic findings provides an unassailable foundation. We place paramount importance on ensuring that justice is served, and we will not allow any distractions or attempts to undermine the investigation's integrity," said Maranan.
"Rest assured, the SITG (Special Investigation Task Force) Degamo will persist in pursuing the truth with determination, striving to bring closure to the case and deliver justice for the victims and their grieving families. The pursuit of justice, coupled with the protection of human rights, will remain our top priority, and we will leave no stone unturned in our quest for truth and accountability," he added. (PNA)