By Christopher Lloyd Caliwan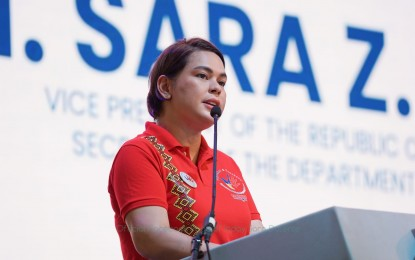 MANILA – Quezon City Police District (QCPD) director Brig. Gen. Redrico Maranan on Friday apologized to Vice President Sara Duterte over the misunderstanding that caused traffic congestion and inconvenience to motorists along Commonwealth Avenue.
In a statement, Maranan said the Vice President was not the subject of the security measures taken during that time.
This was after a police officer claimed in a viral video that the closure of a section of the thoroughfare on Thursday afternoon was made to give way to the passage of her convoy.
"Traffic management is an essential part of the security measures we provide for VIPs, including diplomats, elected government officials, state guests, and other personalities whose movements require the utmost security. It is crucial to emphasize that our approach to simple traffic management should remain free from political influence," said Maranan.
Maranan also apologized for the inconvenience and confusion brought by the situation to motorists.
"We understand the importance of upholding the dignity and reputation of our public officials. Our commitment remains unwavering in ensuring the safety and security of all individuals under our protection, regardless of their status. We will continue to strive for transparency and professionalism in our operations," Maranan stressed.
Maranan's remarks came after the Office Vice President (OVP) on Thursday night called on the QCPD to investigate the matter, stressing that Duterte has nothing to do with it.
The OVP said Duterte was in Butuan City to attend a National Teachers' Day event on Thursday.
Meanwhile, the police officer only identified as a certain Sgt. Pantallano has been relieved from his post, according to QCPD Police Station (PS) 14 commander Lt. Col. May Genio.
"I have ordered the relief of my policeman and put him under investigation to determine administrative liability for his actions. We assure the public that this incident will not happen again," Genio said in a statement issued by the QCPD PS 14.
Genio said the incident stemmed from a lapse in judgment of the policeman manning the traffic during that time.
"It appears that our policeman overreacted when he stopped the traffic for a few minutes, because of misleading information he overheard," she added.
Genio said Pantallano mistakenly heard the word "VP" hence, he decided to clear the traffic as a sign of courtesy and security.
In the same statement, Pantallano also apologized to the Vice President over the mistake. (PNA)