'Glee' Actress Dianna Agron Says Shoot 'Wasn't My Favorite Idea,' but 'We Are Not the First' to Push Envelope
Those were the sentiments of one of the "Glee" actresses under fire for posing in the newest issue of the men's magazine. They appeared racy set of photos as hyper-sexualized versions of their high-school aged characters . "If you are hurt or these photos make you uncomfortable, it was never our intention. And if your eight-year-old has a copy of our GQ cover in hand, again I am sorry," actress Dianna Agron wrote in her blog on Tumblr. "But I would have to ask, how on earth did it get there?"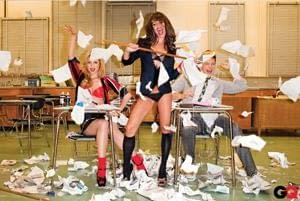 The backlash against the photo spread, which also features Lea Michele and Cory Monteith, reached its zenith when the Parents Television Council, a conservative media watchdog, released a scathing critique saying the shoot "borders on pedophilia" and is a "near-pornographic display."
There's little question that the photos, one of which shows Michele spread-eagle on a locker-room bench in her panties, are meant to capitalize on the classic school-girl fantasy and the actresses' Hollywood-perfect bodies.
But pedophilia?
"When the Parents Television Council says it's another example of the culture sexually exploiting young women, I have no argument with them there," said Bob Thompson, professor of pop culture at Syracuse University in New York.
"When the Parents Television Council says this borders on pedophilia, they're wrong," he said. "They are over 18. We see pictures like that in Victoria's Secret catalogs that come often to our mailbox that could be seen by any kid."
Though Agron and Michele portray teenagers, they are both 24 years old. Monteith is 28, though he remains conspicuously covered in the GQ photos while Agron and Michele wear skimpy underwear, half-shirts and skirts short enough to make most real-life high school principals blush.
If GQ had put the actresses in clothes and situations appropriate for their real-life ages – say a nightclub or a beach – it may have been less of a shock, said Melissa Henson, director of communications and public education for the Parents Television Council.
"The intent, I think, is clearly to fetishize high school girls, and that is what I think is so troubling about that photo shoot," she said.
Psychologist Says 'Glee' Actresses Have 'Moral Responsibility' to Teen Viewers
Henson lays blame not with Agron, Michele or Monteith, but with the brass behind "Glee" and GQ.
"Especially if you're young and just starting out there's a lot of pressure put on these young performers," she said. "They have to do that to tout their careers."
Though Agron defended her participation in the photo shoot in her blog, she admitted "it wasn't my favorite idea."
"These aren't photos I am going to frame and put on my desk, but hey, nor are any of the photos I take for magazines. Those are all characters we've played for this crazy job, one that I love and am so fortunate to have, each and every day," Agron wrote. "If you asked me for my dream photo shoot, I'd be in a tree house, in a wild costume, war-paint and I'd be playing with my pet dragon."
Still, Agron said that "Glee" was not the first time Hollywood had pushed the envelope, citing Madonna, Britney Spears, Miley Cyrus and "Gossip Girl." The photo shoot, she said, was supposed to portray "very heightened versions of our school characters."
The only reason the GQ photos got the reaction they did, Thompson said, is because the characters play underage teens.
"In any other context even the most explicit of them, the locker room with the legs spread … especially in a magazine like GQ," he said," would not be the least bit controversial."
Sharon Lamb, a psychologist and professor at the University of Massachusetts at Boston and author of "Packaging Girlhood: Rescuing Our Daughters from Marketers' Schemes," said that the cast and staff of "Glee" has a responsibility to remember who their audience is, no matter what the age of their actors.
"I think they have a moral obligation to their viewers. GQ, perhaps not," she said.
"It has a lot of junior high and high school students watching it," Lamb said. "Parents and children put a lot of trust into these people and they make their career."
'Glee' is Set in High School, but is Show Really Aimed at Kids?
Though the Parents Television Council argued that "Glee" is "only masquerading as a family show," the musical-comedy has explored some very mature topics from the beginning.
Agron's character, Quinn, became a teenage mother on the show last year. Montieth's character, Finn, has a recurring problem with premature ejaculation. And Michele's character, Rachel, spent part of last season trying to act on a crush for her teacher.
There have also been numerous pot references as well as one-night stands and girl-on-girl action. And a recent episode featuring Britney Spears — as well as actress Heather Morris, writhing around in skimpy outfits as she channeled the singer — also raised eyebrows.
"Anyone who thinks 'Glee' is a kids' show hasn't been watching," Thompson said.
Henson said she has friends who bicker constantly with their children over the right to watch "Glee."
"Clearly parents have the ultimate responsibility," she said. "It is set in a high school, and who's interested in a show set in high school? Clearly pre-teens and teens."