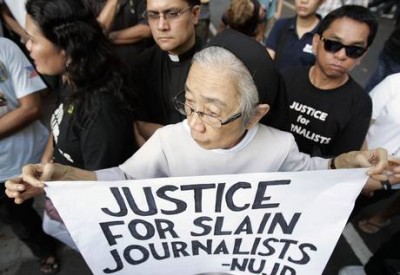 MANILA, March 24, 2011 (AFP) – A female radio host was shot dead in the Philippine capital on Thursday, the second murder of a journalist in the country this year, police said.
Manila radio station DZME named the victim as 44-year-old married mother-of-three Marlina Flores Sumera, who it said hosted a public service show and was on her way to work when killed.
"The broadcaster's relatives believe a land dispute was the motive behind the crime," the station said on its website but did not elaborate.
The station said Sumera's radio show focused on helping poor members of society, and did not deal in the kind of political commentary that has frequently got other journalists in the Philippines killed.
National police spokesman Chief Superintendent Agrimero Cruz said at least one gunman attacked Sumera on a street of a Manila suburb, but gave few other details.
No arrests have been made and the motive for the attack is under investigation, Cruz added.
Sumera was the second journalist murdered in the Philippines this year, after a provincial broadcaster and environmental crusader, Gerardo Ortega, was gunned down on the western island of Palawan in January.
Media and rights groups say the Philippines is one of the world's most dangerous places for journalists.
They say a culture of impunity pervades the country, where powerful figures often act above the law and firearms proliferate.
Ortega was the the 142nd journalist killed since the fall of dictator Ferdinand Marcos and the restoration of democracy in 1986, according to the Philippines' journalists' union.
Most infamously, 30 journalists were among 57 people murdered in the southern Philippines in 2009, allegedly by members of a powerful Muslim clan who wanted to eliminate a rival's political challenge.