By Stephanie Sevillano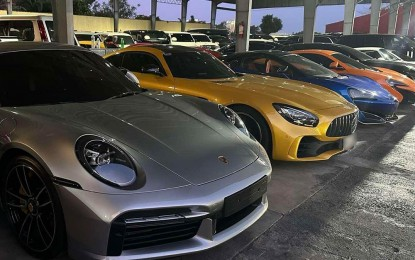 MANILA – The involved party in the raided luxury car hub in Pasig have been given until July 19 to submit payment of correct duties and taxes due evidence, the Bureau of Customs (BOC) on Tuesday said.
The BOC said they have only 15 days to comply with customs' demand for payment of correct duties and taxes following its implementation of the Letter of Authority (LOA) during a raid last July 4.

Customs Intelligence and Investigation Service-Intelligence Group (CIIS-IG) said the operation was launched with their authorized demand for evidence of payment of correct duties and taxes from the car dealer.

"Every operation we conduct is a product of intense brainstorming and weeks of monitoring, analyzing, and investigation," CIIS director Verne Enciso said in a statement Monday.

The operation stemmed from the intelligence report of undocumented exotic and hypercars in Barangay Ugong.

Upon LOA implementation, out of 197 vehicles discovered during the raid, around 87 cars, both imported and local, were tagged to have questionable documents during the implementation.
The BOC said among these questionably documented units are Lexus, Mercedes Benz, Porsche Macan, Jaguar, GMC Savana, McLaren, Ferrari, Lamborghini, Audi and Land Rover.
To date, the raided car hub is under the custody of the BOC until payments compliance.
According to CIIS, the estimated value of 87 units with questionable documents is around PHP600 million.
Meanwhile, Enciso debunked reports that there was another "special operation" conducted in the area.
"We don't go out there on a whim. Our team has been working day and night to confirm each information we get from our sources," he added. (PNA)