By Leonel Abasola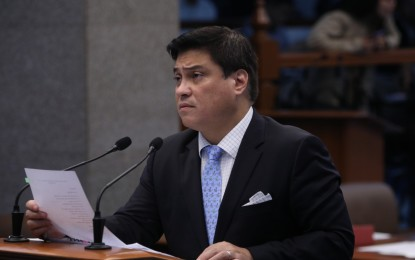 MANILA – Senate President Juan Miguel Zubiri on Thursday said charges can be filed against an artist for what he described as a blasphemous video circulating on social media showing a crowd inside a club making a mockery of the Catholic faith and disrespecting the "Ama Namin" or the Lord's Prayer.
"In my opinion, this is the height of the misuse and abuse of our freedom of expression that borders on criminal activity. It offends the sensibilities of our Christian brothers and sisters, deeply demeans the faith of millions of Filipinos, and dangerously scales the boundaries of protected speech and expression," Zubiri said in a statement.
He said criminal charge can be filed under Article 201 of the Revised Penal Code, which punishes those who "offend any race or religion in the performance of obscene or indecent plays, scenes, acts or shows in theaters, fairs, or any other place."
In the video, artist Pura Luka Vega, dressed himself as Jesus Christ and was mocked by the crowd.
Zubiri said the act merits condemnation not only by Christians but people of all religions whose practice of their faith should not be mocked for private gain or for a few theatrical laughs.
The Lord's Prayer is one of our most solemn prayers during the Holy Eucharist, and to take it out of this context of worship, and use it as material for a comedy bar, is highly insensitive.
"We are still tracing the venue. We are also studying the possible violations of law that was committed here. As a devout Catholic, I have been taught to accord respect to all religions, in a society that respects ecumenism. I hope that this behavior will not be repeated in the future. Again, let us respect each other's beliefs, religious or otherwise, because that is how we build a kinder and gentler society," Zubiri said.
Meanwhile, Sen. Jospeh Victor Ejercito described the video as "blasphemy" and "went overboard."
Separately, Sen. Sherwin Gatchalian warned that "this is exactly what will destroy our society".
Sen. Risa Hontiveros, on the other hand, cautioned against "the use of this incident to deny rights and protections to a community that has long been marginalized and excluded." (PNA)