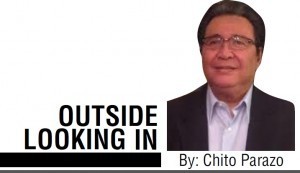 The presidential candidacy of Davao City Mayor Rodrigo Duterte appears to be gaining ground as support from people from all sectors of society, as well as from disgruntled political leaders, continue to swell everyday.
A few days ago, the Nacionalista Party (NP) and the Partido Demokratikong Pilipino (PDP-Laban) bolted from their coalition with the Liberal Party (LP) of President Aquino to form an alliance to support the presidential bid of Mayor Duterte.
The NP is headed by former Senate President Manny Villar and his Senator wife, Cynthia Villar. PDP-Laban, on the other hand, is led by former Senator Aquilino Pimentel and his Senator Son, Koko Pimentel.
The Villars and Pimentels said that they have decided to throw their support to Duterte because  they found the controversial mayor to be the strongest contender that can do more for the country  in the fields of economics and peace and order.
Mayor Duterte, who was present when the NP and PDP-Laban alliance was formed in a hotel in Metro Manila, was overjoyed and grateful for the support the political leaders of both parties have have extended to him.
He said he is comfortable running under the NP banner since his father, former Governor Vicente Duterte was has been an NP throughout his political life.
NP and PDP-Laban leaders also gave Mayor Duterte a free hand to choose his vice presidential running mate. As of this writing, they are saying that it is a toss-up between Senator Bongbong Marcos or Senator Alan Cayetano.
Mayor Duterte has a good track record as a public servant for many years. Since he became the town executive, he transformed Davao as one of the safest city in Asia. Throughout Mindanao, Duterte is known as a hard worker and a man of principle.
He has been responsible in breaking up organized crimes in Davao city and is known for his uncompromising stand against drug addiction.
The sudden departure of the NP and the PDP-Laban from LP will further diminish whatever little chances Interior Secretary Mar Roxas has in winning the 2016 presidential election.
It seems that Roxas can not seem to shake off the bad lucks he had to endure for the past two weeks. First it was the "balikbayan boxes" controversy, followed by the Iglesia Ni Cristo (INC) brouhaha and then the NP-PDP-Laban alliance to support Mayor Duterte.
Just a week ago, thousands of angry overseas Filipino workers lambasted President Aquino and Roxas in social media for implementing new policy at the Bureau of Customs (BOC) which will allow corrupt custom officers to open and inspect the contents of all balikbayan boxes arriving in the country.
Because of the strong indignation coming from OFWs and their families, including their threat to campaign for a "no vote" for all LP candidates in 2016 election, Aquino and Roxas has no choice but to postpone temporarily the implementation ot the new BOC policy on balikbayan boxes.
Still reeling from the threats aired by angry OFWs and their families to junk all LP candidates in the coming elections, Roxas, once again is at the receiving end.
His apparent desire to pressure the INC to support his presidential bid, he and Justice Secretary Leila Delima allegedly railroaded the filing of kidnaping and illegal detention charges against members of the INC Sangunian or Council of Leaders.
This prompted the top leaders of the INC to call on its members to stage street protest over their objections on  what they perceived as government's meddling on their religious rights.
After three days of street protest that has almost paralyzed traffic along the busy thoroughfares of Metro Manila, particularly in Edsa, the Aquino  administration sought a meeting with INC leaders to end the street protest.
What transpired or what has been discussed were never  disclosed by Malacanang. There are speculations that Malacanang must have struck a deal with INC leaders for them to desist from continuing their street protest.
Most probably, Malacanang promised to fire Secretary Delima just to appease the INC leadership and for them to reconsider their decision to support Roxas in 2016. There is no need for Aquino to fire Delima, She is going to resign anyway once she files her certificate of candidacy to run for a senate sea.
With all the bad lucks he had to endure the past two weeks, I dont know if Roxas, deep in his heart, still believe that he can win the presidency in 2016.  If i am the political adviser of Roxas, I will advise him to get former Comelec Chairman Benjamin Abalos as well as Comelec Commisioner Virgilio Garciliano to get the job done.
There is no doubt, he will win by not less than 5 million votes over his closest political rival. Abalos and Garciliano has done it before with ease. There is no doubt that they cannot do it again.