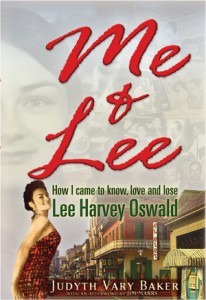 Says Lee Harvey Oswald is not lone assassin
What:         JFK Assassination 49 Years Later
When:        Nov. 22,  4 p.m. to 11 p.m.
Where:       Roxy Theater, San Francisco, 3117 16th St.
Contact:     Jason Dove (443) 622-8845
Join a panel of leading experts on the Anniversary of the Assassination of America's 35th President to hear their commentary, research findings and analysis at this screening of Oliver Stone's classic film.
The Roxie Theater will be honoring the 49th Anniversary of the Assassination of John F. Kennedy on Thursday, November 22nd (Thanksgiving) by screening the director's cut of Oliver Stone's 1991 film JFK and hosting a number of highly regarded experts from around the world to speak about the Assassination and its continued reverberations.
Among the guest speakers is the reclusive Judyth Vary Baker, Lee Harvey Oswald's lover during the summer of 1963. The author of Me & Lee: How I came to know, love and lose Lee Harvey Oswald, has garnered a strong following including former Governor Jesse Ventura who ranked it among his six favorite conspiracy reads and said  "her book shows beyond any doubt that (Oswald) was clearly a government agent."
Other speakers are: Saint John Hunt, James H. Fetzer, Paul Kangas, and Kris Millegan.
Full information available at http://www.jasondove.com/jfk/JFKEVENT.html