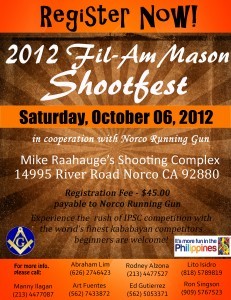 Everyone is invited to register to join the 2012 Fil-Am Mason Shootfest that will take place on Oc. 6 at the Mike Raahauge's Shooting Complex located at 14995 River Road, Norco, CA 92880.
Registration fee for the event is $45, according to organizers, and payable to Norco Running Gun, sponsor of the event.
Gun enthusiasts are urged to "experience the rush of IPSC (International Practical Shooting Confederation) competition with the world's finest kababayan competitors. Beginners are welcome.
For more information, please call Abraham Lim at (626) 274-6423); Rodney Alzona (213) 447-7527; Lito Isidro (818) 578-9819); Manny Ilagan (213) 447-7087; Art Fuentes (562-743-3872; Ed Gutierrez (562) 505-3371; or Ron Singson (909) 576-7523.