By Priam Nepomuceno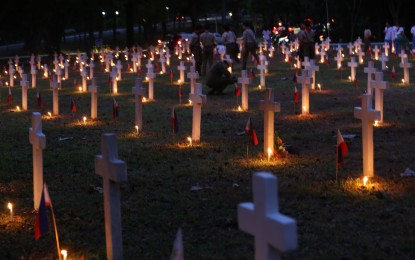 MANILA – Armed Forces of the Philippines (AFP) chief Gen. Romeo Brawner Jr. on Wednesday reminded Filipinos to take time to remember and honor the fallen soldiers who made the ultimate sacrifice in service to the nation.
"This season is an invitation for us to honor all the saints, both known and unknown, and celebrate the lives of our departed loved ones. We also take the time to honor the legacy, memory, and patriotic deeds of our fallen comrades who selflessly dedicated their lives in service to the country and made the ultimate sacrifice," Brawner said in a statement in observance of All Saints' Day and All Souls' Day.
He also reminded all Filipinos to use the opportunity given by these fallen heroes to rekindle their commitment to continue to serve the living and cherish the gifts of life and freedom.
Brawner noted that aside from strengthening the faith, the lives of these valiant soldiers could serve as an inspiration to all.
"I wish you a meaningful and solemn respite, and may the departed bless us with peace and grace during these days of remembrance," he added.
Candle-lighting rites
Meanwhile, the Philippine Army (PA), through the Grave Services Unit of the Army Support Command and Headquarters and Headquarters Support Group, joined Boy and Girl Scouts from the Fort Bonifacio National High School in a synchronized candle-lighting ceremony at the Libingan ng mga Bayani in Fort Bonifacio, Taguig City on Tuesday.
"The synchronized lighting of candles was observed to pay tribute to a life 'well-lived' by the soldiers, heroes, national artists, and scientists, and former Philippine presidents of the country," PA spokesperson Col. Xerxes Trinidad said in a statement.
Meanwhile, Army commander Lt. Gen. Roy M. Galido said the PA is one with Filipinos in remembering the life and influence of the Filipino heroes, especially the fallen soldiers for the "Undas" holidays. (PNA)