PITTSBURGH – On what was the penultimate play of their opening touchdown drive Sunday evening at Heinz Field, the Steelers' rookie center Maurkice Pouncey (right) was left writhing in pain on the frozen ground. He was eventually helped to one foot on which he hoped off the field with the aide of two Steelers staffers.
Pouncey's second-year backup Doug Legursky jogged onto the field and into the huddle in Pouncey's stead. A moment later, he helped shove would-be Jets' tacklers out of the way so running back Rashard Mendenhall could plow into the end zone for the AFC championship game's first score. The Steelers never relinquished it en route to holding off the Jets, 24-19.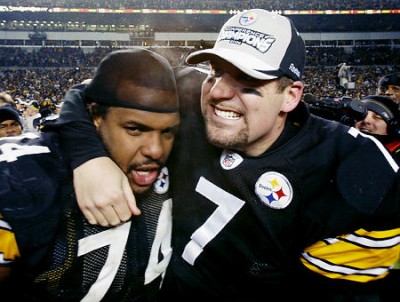 "We don't worry about other things going on," Steelers linebacker Lamarr Woodley remarked afterward. "Pouncey went down; we didn't lose a beat."
The Steelers, particularly this season's edition, never do.
It was resilience that got them off to a surprisingly strong start this year after losing the heart of their team, quarterback Ben Roethlisberger, who was suspended four games following accusations that he assaulted a teenaged female college student in a small Georgia town. It was resilience that Sunday closed out their third successful run to the Super Bowl in the past six seasons.
And as much of a cliché as it may sound when talking about the Steelers, it is that toughness that made them look on Sunday like the team to beat in the Super Bowl next month in Dallas.
After all, the Packers lost some sheen Sunday afternoon by allowing a third-string quarterback, the Bears' Caleb Hanie, to nearly pull off a comeback against them for the NFC title. The Packers finally subdued the upstart with an interception in the final minute to hold on to a 21-14 victory.
The Steelers, however, added some luster in dominating the Jets early and using a goal-line stand in the fourth quarter to keep their challengers at bay. That was world championship mettle.
"We found a way," the Steelers' veteran receiver Hines Ward said standing in front of his locker gripping an emptied bottle of bubbly in one hand.
They even overcame a lackluster performance by their quarterback, a former Super Bowl MVP, who had to find another way other than his arm to score points and keep drives moving. Roethlisberger completed just 10 of 19 passes for a paltry 133 yards. He was intercepted twice, including once near the goal line.
But at least three times he scampered for first downs and another time he ran for a touchdown. He didn't let an off day throwing in the frigid air against a tough Jets' defense deter him.
As uneven as Roethlisberger's performance was, it reminded how difficult it is to beat the Steelers. If the Packers' quarterback Aaron Rodgers has a bad first Sunday in Dallas next month, there will be no way that the Packers can win.
The Steelers, however, do not have a bell cow.
While Roethlisberger struggled, Rashard Mendenhall thrived. He carried the football 27 times for 121 yards and a touchdown. The Steelers even turned for a spell to an undrafted running back off their practice squad last season, Isaac Redman, from Bowie State, a historically black college tucked between Washington, D.C., and Baltimore. Pro-football-reference.com showed Redman was only the third player from Bowie State to make it to the NFL.
"It feels great," Redman said watching a gaggle of media crowd around longtime Steelers' stars like Woodley, Ward and Ryan Clark as the Steelers' patriarch, 78-year-old Dan Rooney, roamed the locker room congratulating his charges. "I had flashbacks to where I came from, Bowie. It was emotional. Now I can take my mother to Dallas. I shed a tear. Coach (Mike) Tomlin gave me a chance."
The Steelers, of course, gave Tomlin a chance. They plucked him almost from obscurity. Now, a second trip to the Super Bowl in his four seasons at the helm after taking over from Bill Cowher is what Tomlin has brought Pittsburgh.
Sunday marked his 48th win in those four seasons. There is no reason to doubt the upcoming Super Bowl won't mark the 49th win in his head-coaching career. Indeed, he moved to 5-1 all time in the playoffs on Sunday and did so by avenging his only head-to-head meeting with his jets' counterpart, Rex Ryan. The Jets beat Tomlin last month.
Tomlin on Sunday didn't just guide the Steelers to another Super Bowl appearance, but into the conversation of being the new measuring rod in pro football. Last week, we saw the dissolution of any more dynastic descriptions of the Patriots, who lost their first outing in the playoffs for the second straight time.
The Steelers dared after Sunday to be the new dynasty of the NFL if they can do what they are more capable of than the Packers: win next month's Super Bowl. That would give them half of the Super Bowl trophies awarded in the past six seasons.
"I get greater appreciation for it now," Ward said, admitting that his days in the league were drawing to an end sooner than later. "I've been blessed. Now I'm going to my third Super Bowl."
Ward pointed out that his team was in good shape even after next month.
"We got some guys who've been there," he said of the Super Bowl. "But for a lot of guys making plays, this is their first time."
He was thinking of Pouncey, whose injury was later described as an ankle sprain. He was thinking of Antonio Brown, a rookie receiver who caught two passes and someday might take Ward's place. He was thinking of Redman, who rushed four times for 27 yards including an impressive 13-yard bolt to help set up a Steelers' field goal.
"Us going 3-1 [in September] without Ben showed what kind of team we are," Ward said. "It brought us closer together as a unit."
Unbreakable, I think.