By Miguel Gil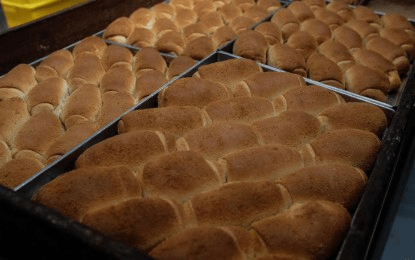 MANILA – Community bakers are pushing for the nationwide adoption of a "standardized pandesal" formula amid the rising cost of ingredients, to stave off future price increases in the Filipinos' staple bread.
In an interview on Monday, Lucito Chavez, president of the Asosasyon ng Pilipinong Panadero (APP), said the standardized formula will return pandesal (salty bread) to its traditional blend, which should be more salty than sweet.
He explained that the pandesal currently being sold by both community and industrial bakeries has deviated significantly from the traditional formula, requiring a huge portion of sugar, which has recently become expensive.
Chavez pointed out that if the country's bakery industry can agree to a standardized formula for pandesal, which the Department of Trade and Industry (DTI) considers a prime commodity, it will be possible to keep prices more stable.
"The DTI considers pandesal second only to rice. That is why we developed "Pinoy Pandesal" years ago, in order to offer consumers low-priced bread. Pinoy Pandesal in particular is subject to government price controls, but pandesal in general cannot be regulated because each bakery has their own formula," he said.
It can be recalled that Pinoy Pandesal, and Pinoy Tasty were collaboratively developed by the Philippine Federation of Bakers' Associations, Inc. (PFBAI), the Philippine Flour Millers, Inc. (PAFMIL) and the DTI, with the encouragement of the Arroyo Administration as a response to an abnormal surge in the prices of raw materials then.
The APP is a new bakers' organization that sprung out of the membership of the broader PFBAI.
It represents small and medium-sized community-based bakeries, which are distinguished from large industrial bakeries that often distribute their products via supermarkets.
Meanwhile, Ricardo Pinca, PAFMIL's executive director, agreed that reducing the sugar in pandesal will result in significant savings for bakers.
"Flour is no longer the biggest cost in making pandesal… it is now sugar. The price of sugar has more than doubled in the space of a few months, while flour has remained more or less stable even if, admittedly, we have had to increase as well," he said.
He added that traditional blend pandesal only contains between six to 10 percent sugar, whereas most pandesal blends today contain up to 20 percent, resulting in much higher cost to bakers.
It was explained that a 25-kilogram bag of "hard flour," which is used to produce pandesal, ranges from PHP920 to PHP1,000, only marginally higher from its PHP850 to PHP 880 price tag immediately before the pandemic.
Pinca noted that every 25-kilo bag of hard flour should be able to produce some 800 pieces of pandesal at 25 grams apiece. (PNA)