By Jean Malanum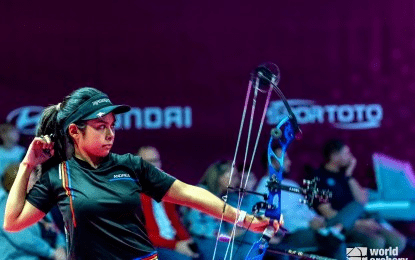 MANILA – After winning the bronze medal at the Indoor World Series (IWS) Stage 1 Lausanne, Switzerland last Sunday, Andrea Lucia Robles is setting her sights on the 23rd Asian Archery Championships.
The Asian Championships, which serves as a qualifier for the 2024 Paris Olympics, will take place from Nov. 3-10 in Bangkok. Thailand.
Four days ago, the world's No. 66 Robles made history anew when she became the only Filipino to win a medal in the IWS twice.
In 2019, she won the IWS gold medal in Macau and qualified for the 2020 Indoor Archery World Series Finals in Las Vegas, USA.
"I am very happy with my performance in Lausanne. I made a new personal best (585) during the qualification round and shot consistently strong scores in the elimination matches (148, 148, 147 and 145 to take the bronze). It took a lot of preparation for this tournament both in terms of technique and mental and I'm glad to see it pay off." the country's No. 1 compound player told the Philippine News Agency on Thursday.
"There is still a lot I can work on though. I'm glad to have had this opportunity to learn more about my shooting and improve as an archer," Robles added.
The 25-year-old management graduate from Ateneo de Manila University is among the eight athletes selected for the Ayala Center for Excellence Sports (ACES) pilot program Atletang Ayala.
The others are siblings Gabrielle Monica and Pia Elizabeth Angela Bidaure (archery), Jasmine Alkhadi and Xandi Chua (swimming), Nathaniel Perez and Noel Jose (fencing) and Prince Alejo (karate).
Joining Robles in the Asian Championships in Bangkok are compound players Amaya Amparo Cojuangco, Paul Marton Dela Cruz; recurve players Jonathan Reaport, Sean Tanco, Jason Feliciano, Charlene Santos and the Bidaure siblings; coaches Joy Mariño and Niño Sinco, World Archery Philippines president Atty. Clint Aranas, and secretary general Rosendo Sombrio. (PNA)