By Jose Cielito Reganit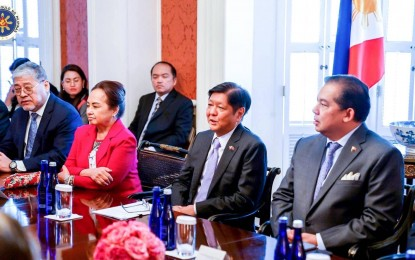 MANILA – Speaker Ferdinand Martin G. Romualdez on Tuesday (US time) said the hard work of President Ferdinand R. Marcos Jr. during his official visit to the United States has paid off with investments that would boost the Philippine economy and create jobs for thousands of Filipinos.
"It is heartening to note that the President's mission to the US has scored significant gains that would not only spur further economic growth but more importantly, result in direct benefits for thousands of Filipino workers in terms of job created," Romualdez said in a statement.
"The Philippines has a lot to offer foreign investors, including a young and growing workforce, a strategic location, and a favorable business environment. I am confident that President Marcos Jr. will continue to attract more foreign investment to our country, which will help us achieve our goal of inclusive growth," he added.
Marcos and his delegation, which includes Romualdez, held a series of engagements in Washington, D.C. with various leading US firms on the third day of his official visit to the US.
In one of these meetings, Carnival Corp. president and CEO John Padget told Marcos that his group of companies is set to hire some 75,000 Filipino seafarers in the next three to four years.
Padget, who also represents Carnival Cruise Line, Holland American Airlines and Seaborn, praised Filipino workers for their hospitality and competitiveness in the global workforce.
Marcos also met with officials of business process outsourcing (BPO) firm Atento, which has decided to set up its first call center in the Philippines at the Iloilo Business Park in Mandurriao district of Iloilo City.
The President thanked Atento President Fili Ledezma Soto and Chief Delivery Officer Josh Ashby and assured them that they made the right decision as "Filipinos speak and write the best English."
For its first year of operation in the Philippines, Atento is projected to provide employment opportunities for around 554 workers and 665 workers in the second year, bringing in a significant investment of PHP21.4 million.
Marcos and his delegation also met with American healthcare services provider Optum. The firm is set to invest some PHP800 million in medical business process outsourcing (BPO) in the Philippines which would provide around 1,500 jobs.
John Prince, president and COO of Optum, said his company is committed to the Philippines and lauded the "strategic partnership that we have for a very long time."
In a separate engagement, officials of the pharmaceutical and biotechnology company Moderna had told Marcos of their move to set up a vaccine-making facility in the country during a meeting with Philippine officials at the Blair House in Washington.
During the meeting, Moderna Chief Commercial Officer Arpa Garay and Senior Vice President and General Manager Patrick Bergstedt said they are set to establish a "Shared Service Facility for Pharmacovigilance" to provide more employment opportunities to health professionals in the country.
Bergstedt said other countries had offered shared services with Moderna but they have chosen the Philippines as the "perfect location" for their third shared service facility in the world.
Moderna was among the pharmaceutical companies that pioneered the production of Covid-19 vaccines, which were distributed to the Philippines at the height of the pandemic.
"I am confident that these initial fruits of the President's labor during his official visit to the US will boost investor confidence in the Philippines, giving us reason to expect additional investments and more jobs for our people," Romualdez said.
House's unwavering support
Romualdez assured the Filipino-American community in Washington, D.C. of the unwavering support of the House of Representatives to Marcos and his vision for a brighter future for all Filipinos.
"The House of Representatives will continue working hand-in-hand with President Marcos to advance his legislative, policies, and initiatives geared towards job creation, improved business climate, and a better life for all Filipinos," Romualdez said during a meeting with the Fil-Am community at the Ritz-Carlton Hotel following Marcos' bilateral meeting with US President Joe Biden.
"This is our way of thanking all our overseas Filipino workers for their invaluable contributions to the economic growth of our country and for showcasing to the world the solid work ethic, talent, and the good nature of all Filipinos," he added.
Marcos has also expressed his gratitude to Filipino overseas workers for their remittances, which helped keep the Philippine economy afloat, particularly during the coronavirus pandemic.
Romualdez told the Fil-Am community that the House is ready to pass necessary legislations that would facilitate the entry of trade and investments from the US generated by the official visit of Marcos and to ensure these would all redound to the benefit of the Filipino people.
This after the positive outcome of the meeting between Marcos and Biden, with the latter announcing that he will send a presidential trade and investment mission to the Philippines.
"We have already manifested our solid commitment to support the prosperity agenda of President Marcos by passing the necessary measures to help establish the Philippines as an ideal destination for foreign investments. We will continue to do so," Romualdez said. (PNA)