By Zaldy De Layola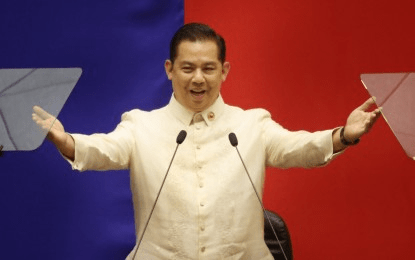 MANILA – The House of Representatives, through the leadership of Speaker Ferdinand Martin G. Romualdez, is successfully building more goodwill with the Filipino people, Maguindanao del Norte Rep. Bai Dimple Mastura and House Majority Leader Manuel Jose M. Dalipe said Thursday.
In a statement, Mastura, vice chair of the House Committee on Muslim Affairs, said goodwill comes when good things are done.
"In this case, the Speaker neither demanded nor was gifted with goodwill; he worked hard – quietly and consistently – and the people acknowledged him for it. Moving forward, having this dynamic will bodes well for the House. This is the House of the People, after all," she said.
All these are manifested, for instance, in the results of various past surveys conducted among others by the Social Weather Stations (SWS), Pulse Asia, and most recently, the OCTA survey held from Sept. 30 to Oct. 4, according to the lawmaker.
The last OCTA survey showed Romualdez garnering even huge increases in trust and satisfaction ratings, particularly on a year-on-year basis, Mastura said, adding that the Speaker obtained a trust rating of 60 percent and a satisfaction rating of 61 percent.
"The trajectory of Speaker Romualdez's ratings showed that Filipinos are recognizing his results-oriented leadership. This fosters goodwill between him, the House in general, and the people. And with goodwill comes a better understanding of the Marcos administration's policies on the part of the public." she said.
In a separate statement, Dalipe said Romualdez's outstanding performance and trust ratings in the surveys are the fruit of his collaborative and unifying leadership focused on uplifting the welfare of all Filipinos.
"The latest result of the OCTA poll survey is proof of Speaker Romualdez's solid and effective leadership. His collaborative and unifying leadership allowed the House of the People to ensure the swift passage of people-centered and pro-poor legislation," he said.
"These ratings are a testament to the dedication and teamwork of the hardworking members of the House with Speaker Romualdez serving as an example to all. The House of Representatives has become the true embodiment of the House of the People under Speaker Romualdez." (With a report from Jose Cielito Reganit/PNA)