By Zaldy De Layola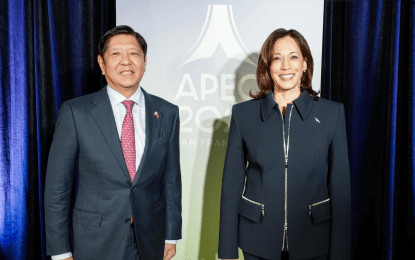 MANILA – House Speaker Ferdinand Martin Romualdez has described the successful bilateral meeting between President Ferdinand R. Marcos Jr. and United States Vice President Kamala Harris as a testament to the enduring strength of the US-Philippines alliance.
Aside from enhancing the country's security, Romualdez said the meeting on Wednesday (Thursday, Manila time) before the start of the 2023 Asia Pacific Cooperation Summit in San Francisco, California also opened doors for more economic opportunities for the Filipinos.
"Of paramount importance is the reaffirmation during their meeting of our shared commitment to upholding international rules and norms, particularly in the South China Sea," he said in a statement.
The far-reaching significance of this meeting, he said, demonstrates the importance of taking advantage of opportunities for President Marcos to engage with fellow leaders of government to promote the country's national interest.
He said what Marcos and Harris have demonstrated during their bilateral meeting is a united front in promoting adherence to a rules-based order, ensuring the protection of the rights of nations in the region.
But an equally significant outcome of the bilateral meeting, he added, is the focus on expanding commercial and economic cooperation.
"President Marcos and Vice President Harris recognize the potential for mutual growth and prosperity through collaboration, fostering economic opportunities that will benefit both nations and their people," Romualdez said.
A readout of the meeting released by the White House said Harris also announced a new partnership with the Philippine government to grow and diversify the global semiconductor ecosystem under the International Technology Security and Innovation (ITSI) Fund, created by the CHIPS Act of 2022.
Earlier, Marcos assured the Semiconductor Industry Association (SIA) in the US that the Philippine government agencies and the private sector are ready to work with the American association if it plans to invest or expand in the Philippines.
He said the Philippines aspires to participate more significantly in the US semiconductor value chain concerning the CHIPS Act and with the Executive Order of President Joe Biden to work with American allies and partners to strengthen the collective supply chain resilience.
As the US increases its front-end wafer capacity for advanced technologies and products under the CHIPS Act, President Marcos said the Philippines stands ready to absorb and support the additional corresponding capacity for assembly, packaging, and testing that will be required.
"US investments into the semiconductor sector will create more jobs for our people, generate considerable revenue for the government, and advance our capabilities with the transfer of technology through such partnership," Romualdez said.
As the Philippines has long been an indispensable part of the electronics global value chain and a center of excellence for electronic manufacturing services, Romualdez said the country presents a prudent choice for investment by American semiconductor businesses.
The Philippines is home to about 500 semiconductors and electronics companies, including seven out of the world's top 20 chipmakers: Texas Instruments, Philips, Fairchild, Analog, Sanyo, On Semi, and Rohm. (PNA)