By Jean Malanum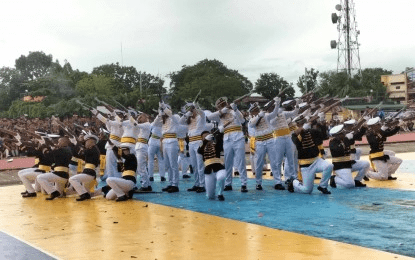 MANILA – The Reserve Officers' Training Corps (ROTC) Games Visayas leg kicked off at Iloilo Sports Complex in Iloilo City on Sunday, with the student-athletes exhorted to display discipline and teamwork.
More than 500 cadets are competing in athletics, arnis, basketball, boxing, e-sports, kickboxing and volleyball until Aug. 19, while the other legs will include swimming, target shooting and weightlifting.
The ROTC Games, being held in cooperation with the Commission on Higher Education and the Armed Forces of the Philippines, will hold the Mindanao leg in Zamboanga City on Aug. 27 to Sept. 2, followed by the Luzon leg in Cavite (Sept. 17 to 23).
The top players in the Luzon, Visayas and Mindanao legs will advance to the National Championships in Metro Manila.
"This is indeed a milestone in the history of the Reserve Officers' Training Corps, showcasing the dedication, discipline, and teamwork of our future leaders," said Philippine Sports Commission chair Richard Bachmann in his speech. "As we witness our cadets compete at the highest level of play, we all should realize that this is not just a showing of their physical prowess and mental agility, but also a display of their commitment to the betterment of our society — a commitment that resonates deeply with the principles of the ROTC program."
Bachmann said the ROTC's purpose is to instill values that will be useful in the students' lives.
"The ROTC Games are not just about competition. They embody the values that the ROTC program instills in our youth and the next generation. The ideals of leadership, camaraderie and service to the nation are exemplified by men and women who have trained diligently to compete at this level," he said. (PNA)