'The King's Speech' was the big winner at the 17th Annual Screen Actors Guild awards, held Sunday night in Los Angeles. The Oscar frontrunner – which was awarded the Directors Guild of America prize on Saturday – took home two awards, for Outstanding Ensemble and Outstanding Leading Actor for star Colin Firth.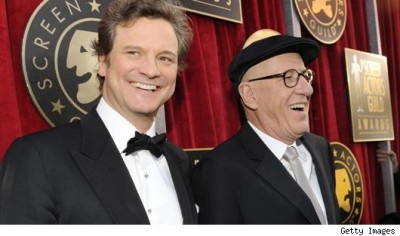 Meanwhile, 'Black Swan' beauty Natalie Portman continued her sweep of the precursor awards, taking home the SAG for Outstanding Leading Actress. Portman has already won a Critics' Choice and Golden Globe – among other awards – for her portrayal of paranoid ballerina Nina Sayres in the Darren Aronofsky thriller.
In the supporting categories, it was a clean sweep for the boxing drama 'The Fighter,' as co-stars Christian Bale and Melissa Leo won Outstanding Supporting Actor and Outstanding Supporting Actress, respectively.
All four actors are heavy favorites heading into the 83rd annual Oscars, airing Feb. 27 on ABC.
The ceremony kicked off with the award for Outstanding Actor in a Drama Series, which went to a "very nervous" Steve Buscemi for his performance on HBO's 'Boardwalk Empire.'
'Boardwalk Empire' also won the award for Outstanding Ensemble in a Drama Series, ousting expected winner 'Mad Men.'
Meanwhile, Julianna Margulies took home her second-consecutive award in the Outstanding Actress in a Drama Series category for her critically acclaimed turn as Alicia Florrick on 'The Good Wife.'
On the comedy side, Alec Baldwin was once again awarded Oustanding Actor in a Comedy, marking his fifth-straight win in the category and 14th nomination overall, while Betty White won Outstanding Actress in a Comedy for 'Hot in Cleveland.'
'Modern Family' won Outstanding Ensemble in a Comedy Series, beating last year's winner 'Glee.'
Rounding out the television categories were Al Pacino, who won the Outstanding Actor in a TV Movie or Miniseries award for 'You Don't Know Jack,' and Outstanding Actress in a TV Movie or Miniseries winner Claire Danes ('Temple Grandin').
Earlier in the ceremony, Oscar-winning actor Ernest Borgnine, 94, was given a lifetime achievement award for his contributions to movies and television.