(Reuters) – The San Francisco Bay Bridge was shut down for over an hour on Thursday after an apparently suicidal man claiming to have a gun and explosives stopped his car and threatened to blow it up, authorities said.
Traffic was halted on the bridge, a major commuter route into the city, when the man called in his threat at 6:58 a.m. It resumed flowing just over an hour later, after he was taken into custody.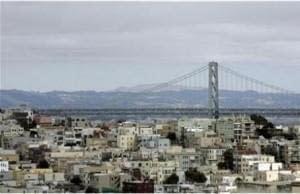 Authorities said the unidentified man had his 16-year-old daughter in the car with him and may have been upset over marital issues.
The man threatened to blow up the Bay Bridge, but upon initial approach police determined he "wasn't much of a credible threat from an explosives standpoint," Highway Patrol spokesman Trent Cross said.
No explosives were recovered from the car and the man's daughter was being interviewed by authorities.
CHP Officer Shawn Chase said police on the scene witnessed the man, a resident of nearby Antioch, California, throw something into the bay.
"He said he had a fake gun, a toy gun that he threw over the rail," Chase said.
Shortly after the call, authorities stopped traffic to the bridge, designated as part of Interstate 80, at the westbound toll plaza, and asked westbound drivers already on the span to turn around and drive east.
Traffic on the bridge was lighter than normal because of the Veterans Day holiday in the U.S., Cross said.
The 8.4 mile Bay Bridge connects San Francisco to Oakland. Over 40 million vehicles crossed the span in the 2008-09 fiscal year, bringing in over $43 million in base tolls, according to the Bay Area Toll Authority.
(Reporting by Jonathan Oatis and Dan Levine; Editing by Dan Whitcomb and Jerry Norton)